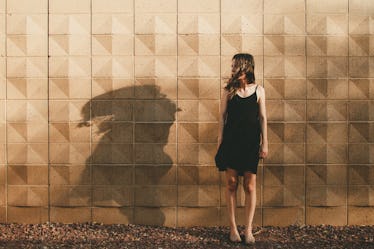 This Is How To Style Slip Dresses For Every Summer Occasion
If I could have any side gig, I think I'd be a lingerie designer. Or Khaleesi, but that seems more like a full-time job.
Personally, I believe that great innerwear should double as outerwear. If I'm wearing a particularly pretty bra, I want the world to know! Is that so bad?
Luckily for me, lingerie and loungewear are trending. Bralettes can now double as tops and bodysuits are now acceptable outdoor attire. My favorite part of the look, however, has been the spotlight on a typically hush-hush part of our wardrobes: slip dresses.
Slips are kind of the unsung hero of our closet. They make our sheer dresses less peek-a-boo and add length to shorter hems. They're also one of the chicest things to wear this summer. Yes, really.
Whether you have a tried-and-true slip or you're just looking for an excuse to buy one, here's how to style them for virtually any summer shindig.
For an entire day filled with naps meetings:
If your office is anything like mine, it's probably well below freezing. Wear an office-appropriate, knee-length slip under a graphic knit that you can slip on and off between the office and your commute home.
Pair a very office-ready, doctor-style tote bag and your least worn-out pair of sandals for an outfit that makes you look like you're trying.
For a party on someone's (kinda shady, probably illegal) rooftop:
Illegal, practically-impossible-to-access-unless-you're-a-ninja rooftops are part of city life. They're also an awesome place to throw a rager (as long as whoever lives on the top floor of your building isn't a total buzzkill).
Pair a slinky slip with a pair of slip-on sneakers and a minimalistic gold choker. The added sparkle will draw even more attention to your exposed collarbone and shoulders.
To finish it all off, a graphic clutch never hurt anyone.
For stocking up on Ben & Jerry's:
It's Sunday, you haven't left your house all weekend and you don't want to spend on a Postmates delivery fee for ice cream. Time to head out. Ugh.
That lacy slip that you thought was too sexy for daytime wear? Think again. Pair it with a fitted white tee and your most casual sandals. A blingy watch will dress up the look, and the clutch you wore out last night and were too lazy to move your keys and wallet out of will make you look decidedly badass.
For a date with that guy who kinda-sorta-not-really looks like a poor man's version of Chris Hemsworth:
Just because it's a Tinder date doesn't mean you need to break out your most revealing slip. In fact, you're better off with a midi length.
Unlike most slip dresses, this longer take is fitted around the waist, which can help define your shape and help you not look like you're being swallowed by fabric. Pair with rose gold heels to make yourself look taller and a dangly gold necklace. Don't forget a red suede clutch to play up the varying textures.
While I can't promise the date will go well, I can promise that with an outfit like that, there's no way he'll ghost you.