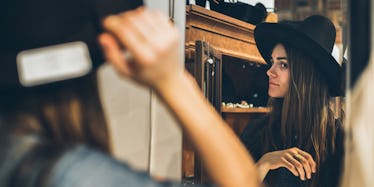 #FashionistaProblems: 18 Struggles Girls Have When Getting Dressed Alone
Congratulations: you're an independent woman. You've only drunk-Tindered once in the past week, actually cleaned out your closet (just kidding, you hired Handy) and most importantly, you finally have your own place.
Whether it's a studio, a loft or even a dorm room — that space is yours and yours alone. You get to throw parties whenever you want and have as many guys over as you'd like. The judgement-free zone starts when you walk in the door.
The best part of living solo? That closet space is all yours.
The worst part? Struggling to put on all those lobster clasp bracelets. Sorry, looks like you're stuck with bangles forever.
Independent woman or not, here are the 18 problems you'll face every time you try to put some damn clothes on, for once.
1. Having to unzip your own damn dress.
Bet you wish you didn't skip yoga this weekend, huh? Try using a clothes hanger to get that zipper to budge.
2. No second opinions.
Does that skirt make your butt look big? Snapchat away, ladies.
3. Figuring out what's work-appropriate.
Having your own apartment and a career is hard enough — now I have to dress the part, too?
4. If you can see your underwear through that dress.
When in doubt, go with nude. Or go commando.
5. If something is "guy-sexy" or "fashion-sexy."
Your girl might love that jumpsuit, but your date will think you're wearing a giant condom. Isn't this what Polyvore is for?
6. If your underwear tucked itself into your skirt.
Definitely guy-sexy. Also please consult a mirror before going out.
7. Squeezing into that size 4 dress when you're actually a size 6.
Jumping usually helps.
8. You can't borrow your roommate's Alice + Olivia party dress.
9. You can never split shipping costs.
I have to pay $12.95 extra just to get a couple t-shirts? Seriously?
10. You can never tell if you'll be underdressed.
But is wearing jeans to a cocktail party that bad? What if they're skinny jeans? What if they're black?
11. Or overdressed.
"Sure, it might be brunch, but I really like what I wore last night, so 6-inch heels and a ball gown it is."
12. You'll never know if you have a hole.
You're lucky that homeless-chic look is totally a thing now.
13. You don't have anyone to physically drag you from the computer every time Zara has a sale.
No, you do not need a sixth pair of semi-affordable fringe ankle booties.
14. No one will calm you down when you realize you have absolutely nothing to wear.
What happened to the hundreds of dollars I spent sample sale hopping last week?
15. There's no one to tell you like it is.
Yes, that skirt is too short. No, you shouldn't wear knee-high socks to meet your boyfriend's parents.
16. You won't know if your tights ran.
It never happens in a place where you can actually see the rip, either. Whatever, let's just say it's part of your look and move on.
17. Who will tell you that yes, you can totally see you're on your period?
No shame, obviously, but maybe switch up the diaper-y pad with a tampon?
18. Those yoga pants that you've been wearing all over the house, to run errands in and to, well, yoga? They're totally see-through.
It's only not creepy if your roomie tells you.