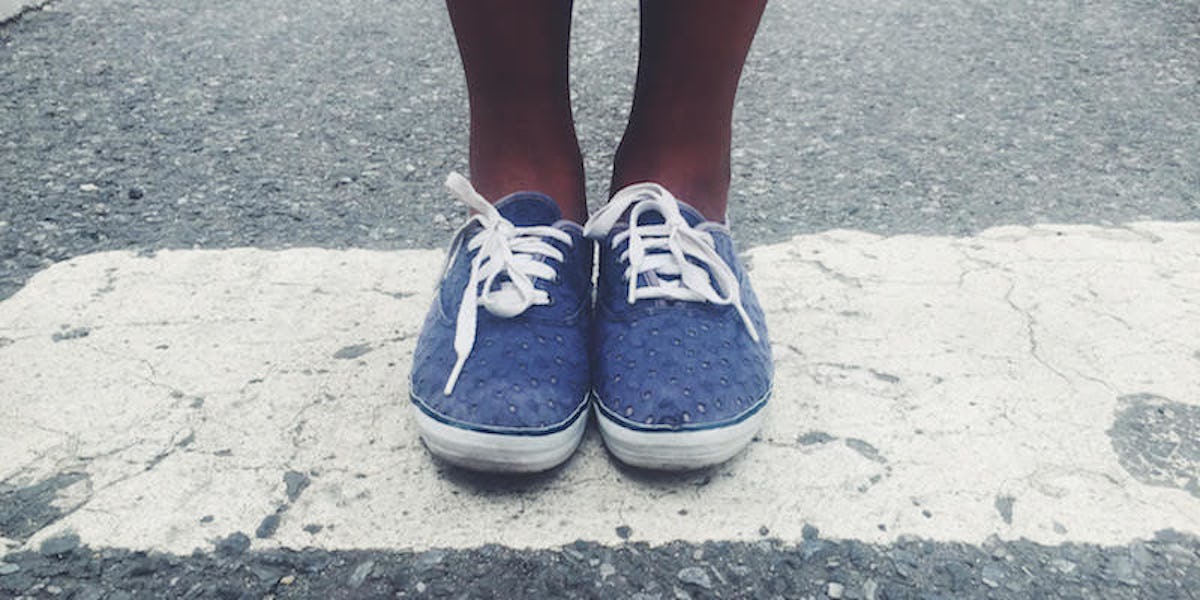 The Reluctant Bunion Owner's Guide To Finding The Perfect Summer Shoe
Don't get bent out of shape just because your feet are. Bunions are no big deal.
Technically, yes, you may have to undergo surgery to remove the bony growths at some point during life. But a misconception seems to be brewing that bunions are oozing, slimy warts instead of what they really are: bent bone.
In reality, bunions happen for two reasons: genetics or poorly fitting footwear -- no bodily fluids involved.
Some of us are unlucky enough to have inherited malformed foot shapes, while others can blame their pain on Jimmy Choo. As the big toe bends towards its smaller fellows, the large joint at the base of the toe begins to protrude. Depending on the bunion's severity, it may require foot surgery or cause mild to severe pain.
With the increase of cheap, stylish footwear that caters to fashion over foot health also comes an increase in bunions at an early age. Sure, stilettos are sex on a spiky heel, but wearing them for long hours at a time will only anger the bulge on your toe bone.
Those of us with bunions have mostly learned to roll our eyes at strappy shoes (there's no way a bunion will squeeze in there) and opt for wide-bed wedges instead. Your podiatrist may recommend resigning yourself to a life of New Balances, but you're not quite ready yet.
For a rare few pairs of shoes (unicorns, really), style and toe space don't have to be mutually exclusive. Snap up these styles while you can.
Open-strap sandals are fit for a dive bar happy hour.
The key to wearing fashionable shoes with bunions is adjustability. These ASOS Leather Lace Up Flat Sandals are only as tight as you pull them, meaning space around those bony toes.
Aside from being a trendy gladiator style, the shoes also feature real leather that will stretch with wear.
Suede espadrilles, perfect for a Central Park picnic.
Espadrilles might be the perfect warm weather shoe because of their stitched soles and criss-crossed laces. Coincidentally, they also have the perfect amount of give to make them a staple in the closets of women with bunions.
These OAS Suede Sandal Espadrille Flat Shoes are comfy enough to wear for a game of Frisbee in the park but fancy enough to pair with a sundress – a perfect summer outfit.
Run 'free'-ly with colorful Nikes.
Nike Free Training 5 Flyknit Sneakers, $117, Lady Foot Locker 
Having bunions is no excuse to stop working out. Instead of wincing every time your foot hits concrete, choose a sneaker built with a wide toe box that opens up space for plenty of movement.
While a running store can fit you for the perfect running shoes professionally, the Nike Free Training 5 Flyknit is a favorite of ours. The forgiving fabric feels nearly weightless, and the unique knit provides plenty of bunion breathing room.
Play tourist in printed Keds.
We don't usually think much of Taylor Swift's taste in footwear, but the pop singer's seagull print collaboration with the classic sneaker brand hits the perfect combination of cutesy and pop art-chic. Keds last forever and mold to the foot over time, so they're an excellent choice for casual walkers who don't want to make their bunions mad.
Try the 1989 Double Deckers for a weekend trip to a city you've never visited before.
Head from the office to dinner in stylish clogs.
Dansko Thea Clogs, $130, Zappos 
If traditional clogs bring back nightmares of your first job serving at Applebee's, switch to a stylish but plush alternative. Dansko's well-known for its commitment to comfort and these neutral "Thea" sandals are no exception.
A little heel gives you the air of professionalism while arch support and superior construction ensure your feet stay comfortable all day. And if you choose to go for a romantic post-dessert walk with your Hinge date, these sandals won't stop you.
Beat wedding style blues in expensive-feeling flats.
Ballet Flats, $10, H&M
Picking flats is a tricky business when your feet are irregularly shaped, but H&M makes ballet flats so delicate they're among the stretchiest available. Instead of packing painful heels for hours of dancing, switch to a luxe-looking pair of flats instead.
Somewhere around midnight, your feet will be grateful for the footwear choice. You'll even be able to walk comfortably the next day.
70s sandals bring vintage flair to brunch.
Wooden-soled platforms are the trendiest style this summer and with good reason: They're both comfortable and dressy. Thanks to a leather upper and plenty of straps, these ASOS Haberdasher Leather Heeled Sandals won't confine your feet in a painful way.
Impress your best friends with these shiny but simple picks, and feel free to order an extra mimosa with the money you saved buying them.