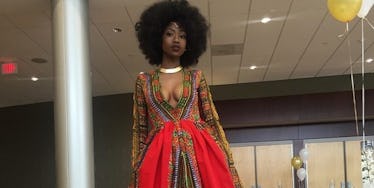 High School Senior Rocks Prom With Gorgeous Dress She Designed Herself (Photos)
Twitter
If you take a look at the dresses in any prom photo, you'll notice most people wear different variations of the same silky floor-length gowns.
That is, everyone except Kyemah McEntyre.
Instead of buying a basic prom dress from a department store, this talented 18-year-old high school student decided to create her own prom gown.
After drawing and designing a brilliant red dress inspired by her African heritage, the New Jersey teen had a local seamstress from Markell's Closet bring her gorgeous gown to life.
McEntyre's bold dress looks like it came straight off the red carpet of the Met Gala and features a full floor-length skirt, a plunging neckline and long sleeves.
Kyemah's dress is absolutely stunning, and she hopes her unique prom ensemble will inspire people to "be willing to acknowledge other people from differences, beliefs, morals and values."
Take a look at the photos below to see her amazing prom outfit.
Meet Kyemah McEntyre.
This high school student decided to forgo the department store prom dress, and she created her own gown.
After designing and sketching the ensemble, she had a local seamstress make the dress for her.
The dress design was inspired McEntyre's African heritage.
After the dress was finished, McEntyre posted a picture of her incredible couture on social media.
This is for always being labeled as, "ugly" or "angry". Thank God, stereotypes are just opinions. - Kyemah McEntyre pic.twitter.com/UXTLyVSF9f — KYEMAH MCENTYRE (@KyeTheCreator) June 7, 2015
Citations: OMG This Teens Prom Dress Is Everything (The Daily Share)