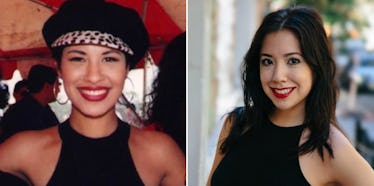 I Recreated Selena's Best Beauty Looks And Realized Her Style Is Timeless
ManuallFocus
I have a soft spot for Texans who fuck shit up.
Although we may be few (yep, gonna go ahead and throw myself in there), we never fail to leave a lasting impression.
As hard as it may seem to realize, Texas isn't just known for its useless ex governor competing on "Dancing With The Stars" or Bible-thumping volunteers keeping our borders "secure."
Nope, thanks to women like Beyoncé, Wendy Davis and of course our true queen, Selena, Texans have a lot to be proud of. And now with the new MAC Selena collection (October 1), we can celebrate the legacy of Selena on a regular basis.
The collection was entirely curated by her sister and bandmate, Suzette, and is modeled after shades the singer wore every day. That may be why this collection means so much to her fans.
After all, a Kickstarter urging MAC to take notice of the icon is the reason the line came to fruition in the first place.
[/caption]
The legacy of Selena Quintanilla Perez is one certainly worth remembering.
Selena was the catalyst that bridged the gap between Tejano music (a Spanish genre influenced largely by Texas culture) and, for lack of a better term, American or pop(ular) music.
She wasn't just Mexican; she was Mexican-American. She represented the wholeness of an identity that had been ignored for years, one that had been forced to previously choose a side.
Were you going to be more American? Or, were you going to stay true to your Mexican culture? It's a struggle Selena often faced from her fans, both Mexican and American, who criticized her for doing an English album or expected her to speak perfect Spanish at press events.
Selena showed us it doesn't fucking matter what the rest of the world expects from you. Just do what you feel like doing, wear what you feel like wearing and, sure, get married on a whim at 19 without telling your family, as long as you're staying true to yourself.
Even 20 years after her death, Selena remains unforgettable -- in part because of the trends she popularized.
Thanks to the new MAC cosmetics line, Selena fans now have a fun way to stay connected to her. I rocked a few of her most famous looks for three days and realized her style is still as spot on today as it was two decades ago.
And while yes, experimenting with the makeup was fun, I couldn't help but feel a little political and miss a dominating voice like Selena's representing Mexican-American culture.
Thursday: The bright red lip against solid colors
So when I started this "challenge," I didn't realize how literally effortless it would be. I already wear white crop tops, all-black clothing and bras as tops. (Woo!)
Whether people realize it or not, Selena's iconic style is still seeping its way into fashion today. Obviously the '90s are back, but Selena's '90s are back. 
For this look, I decided to copy Selena's bright red lips against an all-black ensemble. Wearing black already shows you're tough, but wearing black with a statement lip shows your confidence before you even open your mouth.
In these photos, I paired MAC's "Como La Flor" lipstick with the brown shade of blush in her MAC compact called "Techno Cumbia," which was also the title of my favorite Selena song growing up.
Both the blush and lipstick went perfectly together and complemented each other in a bold way that actually made me feel more like myself than my typical pink shades of blush do.
Channeling the late singer not only made me feel like I was doing something special throughout the day, but it also came naturally to me. It was nice to have an excuse to experiment with my makeup.
Pro tip: If this look is new to you, ditch the eyeliner for a softer look to make a bold lip feel more accessible.
Friday: Black winged eyeliner
Selena was definitely known for her bright lip colors, but she knew how to keep the right balance with her eye makeup. I mentioned before to ditch the eyeliner if a bold lip scares you, but the eyeliner alone can be a complete look in itself.
I drew an exaggerated line with the liquid eyeliner in her MAC collection called "Boot Black." I normally wear eyeliner, but when rocked alone with no other eyeshadow or blush, my co-workers took notice.
I only applied a line in the morning, and it was still popping against my lids at my company's happy hour at the end of the day.
When asked about it, I was all too excited to share that it was Selenas's eyeliner (said in voice of bumper guy from the movie, obviously). That's another reason this makeup collection is so meaningful: It gives us a chance to talk about her again, and talking about her gives Latinas a platform.
I wonder what having a voice like Selena's in pop culture today would mean for people who may be feeling disenfranchised in America's current state of affairs.
Monday: Pink eyeshadow
Yeah... PINK eyeshadow. The baby pink hue, called "Fotos y Recuerdos" (named after another hit song), made me a bit nervous, but I figured, hey, since it's in the collection, it must be Selena-approved.
It's also important to note that today's popular smokey eyeshadow look was not a thing in Selena's day. She accented her eyes with light pink and brown shades, working her way into a highlight cream color near her brow bones.
I always felt like I looked weird with eyeshadow, especially with a smokey eye. It somehow made my eyes look smaller, which may be why Selena never went for the look as well.
And that's when it hit me: This collection is one of few (the only?) out there for people who look just like me.
This was for black hair AND olive skin, not the typical Kat Von D popularized black hair and porcelain skin look you see in advertisements. This makeup was for people with dark, bold eyes and full lips, not for people who would get lost behind the brown blush and "harsh" eyeliner.
I wore Selena's makeup trends for a few days, not realizing I just discovered a whole new way to wear my makeup every day.
It seemed every piece in this collection was something I could wear proudly and with confidence, and I was a bit shocked to realize finding shades that work for me has never been this easy.
I knew bold, black eyeliner and bold lips worked for me, but I always had to build my makeup collection separately, piece by piece.
It's nice to see a popular brand like MAC take notice of Selena's effortless style and legacy.
In Texas, Selena is still a major part of our culture, but when I moved to New York, I realized the first Selena that comes to people's minds here ends with "Gomez."
As a Mexican-American from Texas, I believe I can say being Mexican in Texas is a bit easier than it may be in other states.
Most towns are predominately Latino, and our mayors, councilmen and doctors are mostly Latino as well. In Texas, we have Mexican role models.
We also have white people who don't think Mexicans are dangerous or should be deported. In Texas, Mexicans are friends and neighbors; they're Americans.
But being Mexican in America is getting tricky. A presidential candidate recently rose to popularity after calling all Mexican immigrants rapists. The same candidate gets millions of people roaring with joy by promising to build a wall and keep families divided. 
Of course, there are many Latino celebs who speak out about racism and the political decisions facing Latinos today, but there's a reason Selena is still celebrated 20 years after her death.
She truly was one of a kind.