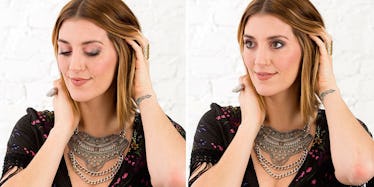 Try This Updated Smokey Eye Look For Your Valentine's Day Date
Date-night makeup comes with expectations. You may feel the need to go above and beyond your daily makeup routine, creating a little extra dazzle.
These amped-up looks don't have to take much more time than you would ordinarily spend. Here, I'm showing you how to streamline your classic smokey eye with a Valentine's Day twist: Use pink eyeshadow, instead of black or gray.
The substitution is simple, because pastel palettes are everywhere right now. It not only gives you that coveted date-night smolder, but it also adds a brightening effect thanks to the soft, shimmery hue.
Scroll below to learn the simple steps to achieve this romantic look in five minutes flat.
Before we begin, prep your face and add a chocolate brown lip.
Apply your base makeup following this flawless face tutorial. Add a soft pale pink blush like Narcissist Cheek Studio Palette to the apples of your cheeks and highlight above your cheekbones with a bright matte powder.
Add a deep neutral lip color that allows your eyes to remain the focal point. I'm wearing Too Faced Melted Chocolate in Chocolate Honey.
Step 1: Apply a matte highlighter to the brow bone and inner corner.
I chose to go with a matte highlighter on my brow bone and inside the corners of my eyes to keep this look sleek, yet romantic.
Choose a light bone color, similar to your natural complexion. 
Step 2: Add a sweep of pale pink for a sweet but dramatic effect.
Using a flat brush, apply a soft pink all over your eyelid and into your crease. Add the same pink to your lower lash line. I'm using a shimmering rose shade.
Step 3: Bust out your shadow brush and smoke it out.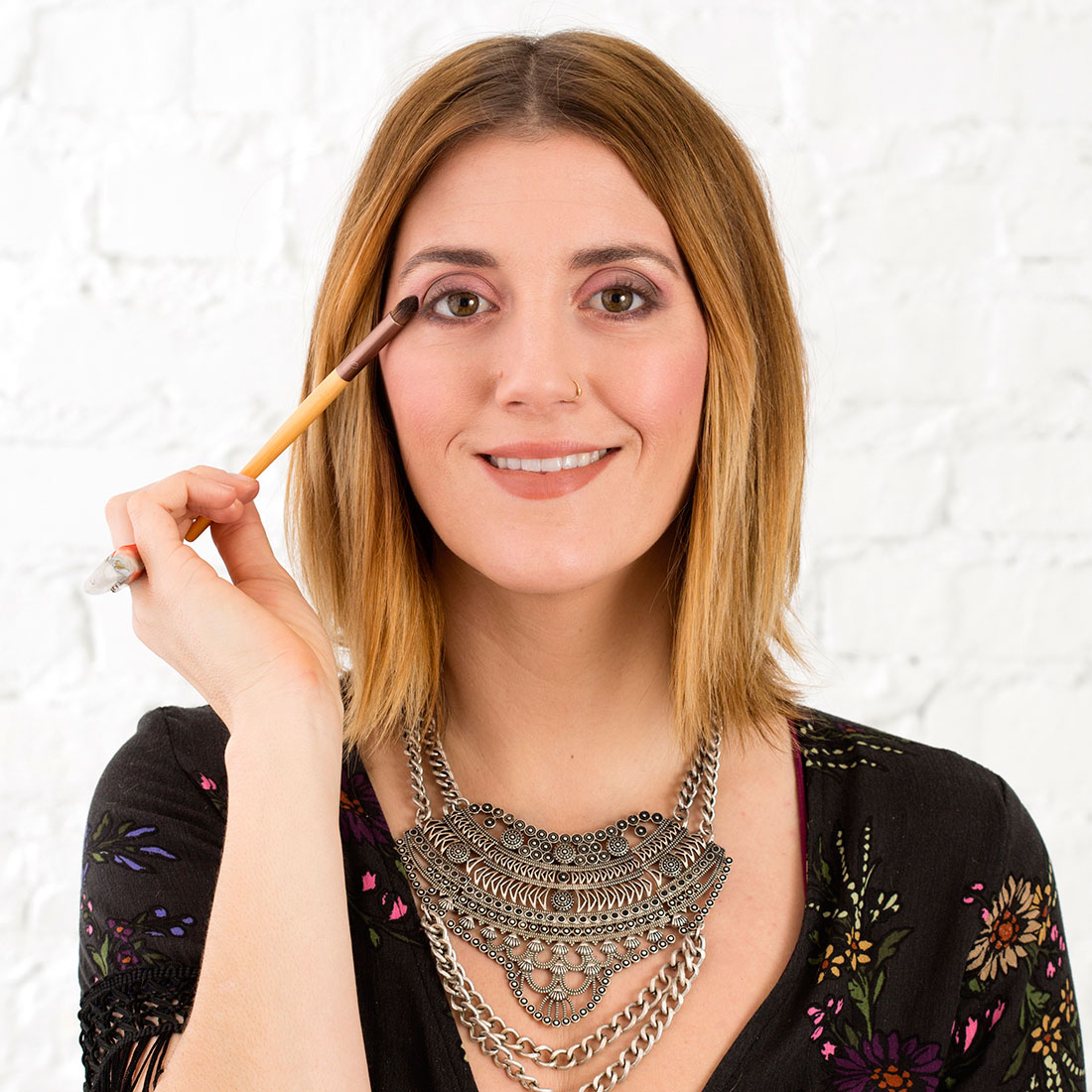 Apply a deep brown eyeshadow, like Darkhorse from the Urban Decay Naked Palette, to the outside corners of your eyes. Pull the shadow slightly below your lower lash line and into the outer creases of your eyelids. This step is best if you use a smaller, slightly firm shadow brush for precision.
You could use black eyeshadow if you really want to have a smoldering drama, but I like brown to keep it soft and romantic.
Step 4: Shimmer those lids and watch them sparkle.
Now, apply a little touch of shimmer directly to the center of your eyelids to catch the light and create a subtle shimmer that will have your lover locked into your gaze.
I'm using NYX Cosmetics Roll on Shimmer in Mauve Pink. For a more natural finish, I'm applying it with a flat shadow brush.
Step 5: Add deep gray to the outside corners for added drama.
Instead of using a black eyeliner, grab a deep charcoal or gray shade. Apply it to the outside corners of your eyes, along your upper lash line and on the outside portion of your lower lash line.
You can use a cotton swab or brush to blend over the liner. This will make it a little softer and smudge it out.
For the finishing touch, layer on that soft mascara.
Keep your mascara lighter by using a soft brown. My current go-to? Benefit Cosmetics They're Real Tinted Primer.
This is going to finish off those soft smoldering pink eyes without being too stark.
Now, you're ready for date night.