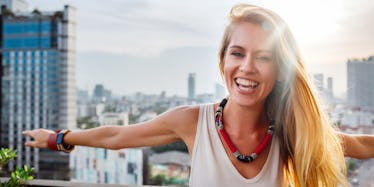 Smells Like Fashion: Scented Jeans Will Make Sure You Smell As Good As You Look (Photos)
Stocksy
If you're anything like me and panic when you run out of the house without perfume on, you may never have to worry again.
A Portuguese company, Salsa, has created scented denim jeans, so you can stay fresh no matter where you go.
These amazing and very creative jeans come in an assortment of washed out neon shades. The beautiful five colors don't all share the same scent, but correspond to their colored fruit.
The colors in the collection are blue, yellow, pink, green and orange. Blue represents the scent for blueberry, yellow for lemon, pink for strawberry, green for apple and orange for… take a wild guess… orange.
These fragrance jeans are a great deal, too: 55 euros.
They also stay scented for up to 20 washes, and who really washes their jeans more than once a week?
But wait -- now that your jeans release a fragrance smell over time, you may not even have to wash them that often (or at all, like the Levi's CEO)!
But even if you do wash them once a week, your jeans can actually stay scented for up to 20 weeks (140 days), which is a little more than half a year.
What a steal: you save on laundry and on perfume!
H/T: Daily Mail, Photos Courtesy: Salsa