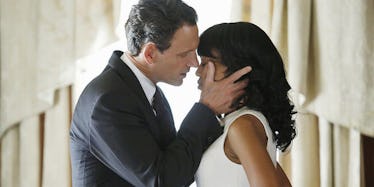 Why 'Scandal' Made Me Question If Women Really Can Have It All
Disney-ABC Domestic Television
This season of "Scandal" has been an interesting one.
Putting aside my undying support for Jake, I have tried to accept that Fitz and Olivia have a love that just can't be denied.
I have tried to get on board because I thought I'd be watching a strong, intelligent woman run her business and still have the man she loves.
I waited for the episode when she would smile because she didn't have to sacrifice her dreams for love.
But it couldn't and didn't happen.
Truthfully, I'd be lying if I didn't admit that I take all of this a little too personally.
With my 20s behind me, it's hard not to take stock of everything I've accomplished.
Don't get me wrong; I'm proud of the things I've done.
But I'm single after thinking twice that I was headed down the aisle, and it stings.
I wonder if I wasted valuable time on two men when I could have been building my business years sooner.
Did I fail to be a strong, independent woman?
Is it too late?
Or worse, will I never have a family?
I play a game of mental tug of war every day.
Do I embrace being single, say "screw it" to men and focus on my dreams?
Do I pound the pavement of dating apps until I find a nice man to love: one who owns a house and wants a wife?
Can I have both?
I look at my girlfriends and I see the toll that these same questions have taken on them.
We come from a generation of mothers who want to see us succeed, travel and be accomplished young women. Yet, they yearn for our weddings and grandchildren.
We are part of a generation that is told we can freeze our eggs, have a career and then raise a baby on our own (with the help of daycare) in a few years.
But then, we see our high school friends and their smiling husbands and perfect little children on Facebook. We wonder what we did wrong.
Did I fail because I couldn't be the person my exes wanted?
I couldn't be that girl who lives in the suburbs and works from 9 to 5.
It's not to say I don't want love and commitment, but I'll take apartments and working all-nighters with a crazy, creative partner over these traditional routes.
Am I failing to see a balance?
Maybe I just haven't met the man who will support me enough to show me I can have it all.
(For the record, if there's a man out there who wants to travel the country with me in a tiny house towed by a bright yellow Fiat, I'm taking applications.)
There are days I feel judged for wanting a family when I should be focusing on my mind and talents.
There are days when I feel judged for wanting to choose a crazy, bohemian lifestyle when I should be buying a house and settling down.
So this is my plea to both sides and all generations: Let your sisters, wives, friends, girlfriends and daughters know it's never too late for them to reach for their dreams.
Tell them being a woman doesn't mean you have to choose between love and a career.
It just means we might have to fight a little harder and multitask like pros.
But tell us that no matter what, you'll have our backs.
Sometimes, we need to hear it.
I know I do.