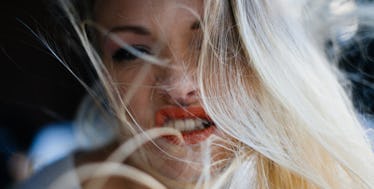 Finally! Rocket Scientists Create Stiletto That Won't Murder Your Feet (Video)
It really does take a rocket scientist to create a stiletto you can wear all day.
It also calls for an astronaut, an orthopedic surgeon and a fashion scientist.
After five years as a SpaceX executive working in high heels, Dolly Singh decided she needed a change. Rather than give up her Jimmy Choos for orthopedics, Singh decided to use her expertise and enhance the heel's comfortability.
Today, Singh is the founder and CEO of Thesis Couture.
Singh and her team are inventing a shoe that redistributes pressure along the foot while making use of high-quality plastic and polymer instead of the traditional metal construction. They call them "the world's first high-performance stilettos."
The heels, which should be available in limited quantities this coming autumn, will run you a hefty $925.
These heels might not be within your budget right now, but Singh hopes to change the way all high heels are constructed within the next five years.
Citations: The high-powered dream team trying to create a stiletto shoe as comfy as a trainer (The Independent)