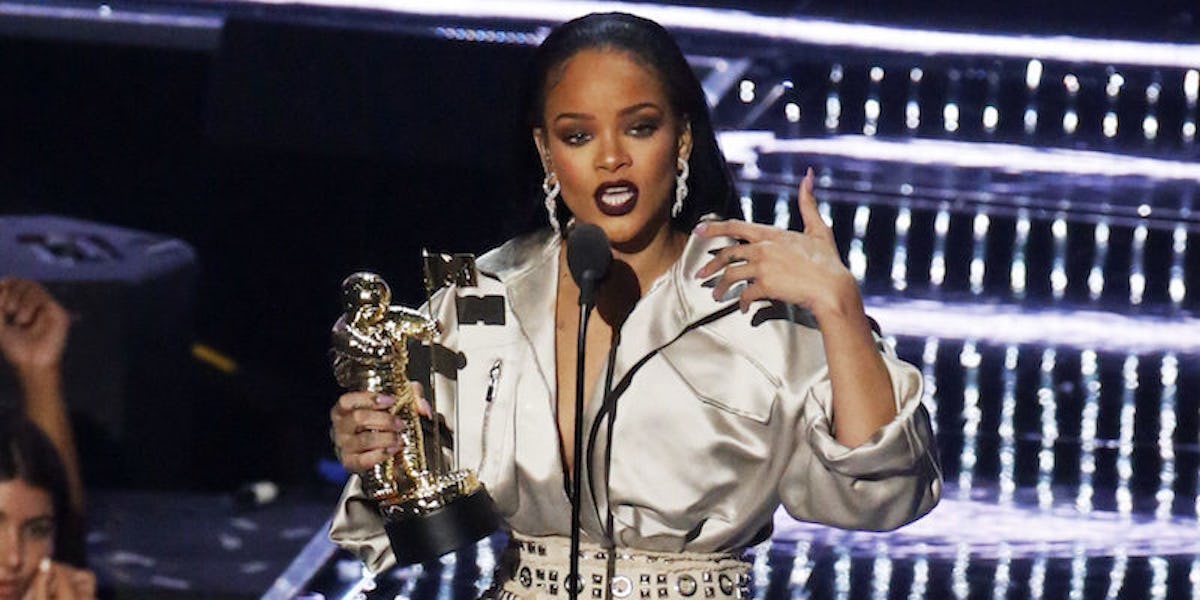 What Rihanna's VMAs Dress Can Teach You About Scoring A Promotion At Work
Reuters
Rihanna is a success story, through and through. At the age of 28, she already has eight Grammy awards and now, of course, a Michael Jackson Video Vanguard award.
Watching her perform three separate times at this year's MTV Video Music Awards, it was immediately apparent what an incredibly driven artist Rihanna is.
There's a fire in her eyes when she sings and dances, not unlike that seen in the eyes of Beyoncé.
Notably, there was one thing separating Rihanna's Video Vanguard acceptance speech from the rest of the award show: her outfit.
Before you roll your eyes and say it's the woman who's really notable, hear me out.
The dress spoke first, before Rihanna ever opened her plum-lined mouth.
In a sea of mini dresses, leotards and bared bras, Rihanna wore a full-on Alexandre Vauthier ballgown.
It was an important reminder of a fact-based truth: Extra effort can make you stand out from the crowd, and dressing better than everyone else in the room can set you up for success.
Your job may not involve performing on stage at MSG, but studies consistently prove that people who dress up in the office work harder, achieve their goals and are perceived as more intelligent than their peers.
In fact, corporate recruiters stand by the "25 percent rule," which states that you should always dress 25 percent better than everyone else around you.
Such dedication to making a good impression can be the reason an executive takes notice of you, or an interviewer distinctly remembers you days later.
When it comes to your career, how hard you work is a major factor in determining your next raise or promotion, but others' perceptions of your work ethic and personality also play a large role as well.
So, if you can make them notice you more, why would you skip the chance?
Stepping up your style might be as simple as applying mascara before work, ironing a blouse or trading in jeans for palazzo pants. In an office with a casual dress code, you'll seem much more put-together in comparison.
If anything, ask yourself this question when getting ready for work: What would Rihanna do?