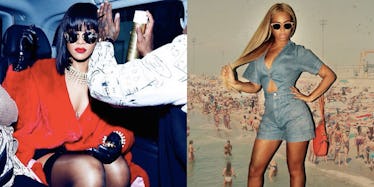 Battle Of Celebs Rihanna Vs. Beyoncé: A Report Card On Who's Winning
Instagram
It's Friday night and you're sitting amongst your most trusted friends when out of nowhere Ciara blurts out that Beyoncé is all-around better than Rihanna.
The world stops, and you're instantly pitted against a friend you don't even recognize anymore. Wide-eyed, you're appalled by their lack of loyalty to your fav.
I mean, come on, Bey is your phone screensaver and soundtrack to life, but Ri is practically your spirit animal, especially when she mic-drops a selfie on IG. Can't you love them both equally but for separate reasons?
Why are we even comparing them in the first place? They're two sides of the same coin for goodness sake! Rihanna is the woman you are now and Beyoncé is the woman you want to be.
When faced with this challenge, we at Elite Daily did the unthinkable and placed Queen Bey and Princess RiRi in a head-to-head showdown. Though their route to success has been markedly different, they both ended up as BFFs in your mind, whether you admit it or not.
BEST ALBUM
Teacher's Notes: Picking your favorite artist's best album is rather subjective.
When it comes to these two, it's all too possible their corniest record was the soundtrack to your first sex sesh so it's nestled into a soft crevice of your heart. But numbers don't lie, no matter public reception, so look no further than Houston-bred music laureate for a one-up.
While RiRi didn't earn her first No. 1 accolade until her seventh LP, "Unapologetic" –– it sold 238,000 copies in its first week according to Nielsen SoundScan, Bey claimed that slot well before her 22nd birthday with her first solo effort, "Dangerously In Love" and also Destiny's Child's "Survivor."
Oh, and did we mention Beyoncé is the first woman to collect five consecutive No. 1's with her first five studio works.
Yeah, we'll leave the L's to RiRi.
Excuse me, Rihanna. We need you to bow down on this one.
Beyoncé: A-
Rihanna: B+
STYLE STATUS
Teacher's Notes: For 10 years, Ri has climbed from misinformed style rookie to iconic fashion giant.
The 27-year-old Bajan hottie sits atop a throne of fashion royalty that's simply untouchable. You can try scouring Polyvore for her look, but it's no match for the pop queen's wake-up-wear-this-and-go versatility.
Though Beyoncé nails it, (See: Her forthcoming collab with Topshop) her style just isn't as refreshing. Stunning? Yes. But safe and predictable. Now probably isn't a good time to mention House of Deréon, either.
Sorry, Bey. Rihanna takes this cake (cake, cake, cake).
Beyoncé: C-
Rihanna: A+
MASTER GLAM CLASS
Both women's resumes runneth over with beauty endorsements, everything from makeup and perfume to shampoo. A quick glance at their multimillion-dollar deals, and you'll realize their styles are clear-cut. Rihanna rebelliously leans toward what's ahead of its time, as Beyoncé dances completely on pulse.
RiRi's Navy may disagree with this tie since the hazel-eyed femme is responsible for an arguably perfect shade of lipstick and several MAC collections. But her glamour wins can't overshadow Bey's longtime relationship with L'Oreal Paris.
It's a matter of preference, TBH: Are you dark and rebellious or soft and seductive?
Breathe deep and don't scoff. They're both putting their name on everything.
Beyoncé: A
Rihanna: A
#FITSPO
Sure, Bey took on Michelle Obama's #GimmeFive challenge and Rihanna's model-esque bod would put Adriana Lima to shame, but which of these baddies is actually putting in work?
As of late, Bey's leading the charge on all things fitness and health.
Her swine-swap to vegan options -- she even has her own vegan meal delivery service, 22 Days Nutrition -- has made her a diet deity. So while we're choking on jealously at Rihanna's effortless ability to look amazing on a marijuana diet, we know Beyoncé sacrifices and busts her bum to stay slim.
At the end of the day, you want to look half as good as both of them, don't you?
Beyoncé: A+
Rihanna: A-
RELATIONSHIP STATUS
Beyoncé has settled quite comfortably into her role as Jay Z's wife and Blue Ivy's mama. Though her life is straight up #relationshipgoals, Rihanna's maneater approach to love is nothing less than empowering -- and this is a woman who suffered an ugly domestic abuse spat.
Never one to be slut-shamed, her phoenix-like rise past her pain and into the arms of the industry's hottest dudes (Drake, Matt Kemp, Leonardo DiCaprio) is the stuff feminists burned bras for.
Men swoon at the sight of her, and now that same-sex marriage is legal, what woman wouldn't put a ring on it?
Mrs. Knowles status is tempting, but for now, RiRi's unwavering power over men makes us single gals rejoice.
Beyoncé: B+
Rihanna: A
GRADE POINT AVERAGE
What does all this mean? It's completely not pro-lady to compare women -- after all, both Rihanna and Beyonce are amazing enough to be the blueprints to your life. Choose your adventure wisely.
Beyoncé: 3.45
Rihanna: 3.85