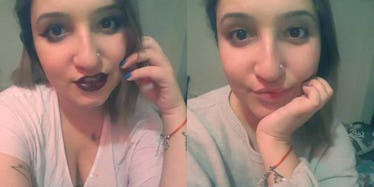 What Gets More Right Swipes On Tinder: Makeup Or Makeup-Free Selfies?
I'm the kind of girl who never goes outside without a face full of makeup. No matter where I'm going — Duane Reade, walking my dogs, a date — I need to have at least one coat of foundation and some eyeliner on.
It's not that I don't like the way I look without makeup, it just helps me feel more confident. I'm more likely to approach people if I have my bronzer and mascara to back me up. I feel prettier and less naked than I do without it.
Is that so bad?
Naturally, I would never even dream of going on a date sans makeup. The mere thought of making a first impression on someone without my signature winged liner freaks me out more than anything.
My theory, like Amy Schumer's, is that even guys who claim they "don't care about makeup" still actually prefer it.
Going all-natural in front of a guy I could potentially like was a foreign concept for me. Which is obviously why I had to do it.
The Experiment:
In the name of science, I made two profiles on the battleground of all things science-related: Tinder. I took four selfies, two during the evening and two in the morning in natural light. No filters allowed.
The two profiles were the same. I said I was a native New Yorker, I loved traditional basic bitch things (acai bowls and Bath And Body Works candles, duh) and my drink of choice was Riesling. In the words of my ultra-kind coworker: "Even I wouldn't swipe right on you."
Using her words as a vote of confidence, I swiped away. One hundred indiscriminate swipes for 100 men. I waited one hour and kept track of the matches and messages.
Exhibit A: Makeup-free
Exhibit B: Makeup
The most swipes went to…drumroll, please…the makeup selfie!
Surprise, surprise, right?
The numbers were shocking: 47 matches to 17.
To be honest, this kind of made me angry. Most of the men I know — be they ex-boyfriends, guy friends or even ones I've dated — insisted their favorite look for a girl is "all natural." Well, clearly that's bulls*t because I got more than twice as many right swipes on photos with makeup.
There were plenty of noteworthy messages, too.
This guy was aesthetic as f*ck:
This guy was wasting NO time:
Maybe you shouldn't go to Starbucks anymore, Larry:
Does "accommodate" include free Riesling though?
Tinder: the new Google.
In my experience, men like makeup, they just want to pretend it's not there. Sure, some guys are down for the "woke up like this" look, but mostly they were just about the dark lipstick and bold winged liner.
It's not like I'm the first person to attempt this experiment. Beauty blogger Alexa Mitchell made two identical profiles, one with her face photoshopped and one left alone. Guess which face won out? The one with all the blemishes magically erased off.
Gentlemen, own up to it. You like flawless complexions, a heavier brow and a flirty wing. The dark lipstick might get us winces from you in real life, but it looks amazing in photos.
The funny part is, all the makeup I had on looked absolutely disastrous in real life. I had a ton of bronzer and even more mascara layered on. I didn't like how I looked, but I guess those who swiped right did.
Looks like I'm not about to ditch my eyeliner anytime soon.