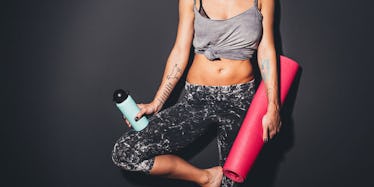 Rave Yoga Is The Trippiest Exercise Class You'll Ever Take
By the time I made it to Verboten nightclub and yoga studio, I wasn't thinking about the kind of workout I wanted or the burn in my legs from sprinting to make it to class on time.
I was thinking that I should've gotten high.
The studio was located in a warehouse deep in Williamsburg, Brooklyn, about a block from the East River. The space was like that of every Brooklyn warehouse party I've ever been to, and therefore unlike any yoga studio I've ever practiced in.
For one, there was no soothing classical music, nor were there Buddha statues scattered throughout the space. There were, however, a dozens of candles perched precariously throughout the studio.
After exchanging IDs for Lululemon yoga mats at no additional charge, a huge plus in my book) my co-worker Celine and I spread out in the back of the room, keen on observing the rave -- er, practice.
Rave yoga, which Verboten calls "Deep House Yoga," is just like your average Kirtan or Vinyasa practice, except it's set to house music. There's no Skrillex or Jack Ü here, though. House DJs George Faya and Tasha Blank spin a mixture of trance music that will do something between pumping you up and putting you to sleep.
It took a bit to adjust to the vibe of the place. We stretched into downward dog on a dance floor lit by strobe lights, underneath a sparkling disco ball. The walls were lit up with stars as well as nature and city scenes. The DJs onstage made me wonder if Mondays evenings are the new Saturday nights.
We didn't start the practice with any slow, luxurious stretches. Instead, we got right into our cat and cow poses, followed by a seemingly endless array of downward dogs. No sun salutations here, ladies and gents!
These weren't plain-Jane downward dogs, either. Every time we bent over backward, we were instructed to "bounce to the beat," which included shaking your ass and bending your knees in a rhythm. It might as well have been a club, because that sh*t was lit. Also, very painful when you haven't practiced in a couple of weeks.
The trippiest thing, however, wasn't the twisty downward dog or even the "Shake It Off"-style dancing to the beat. It was the instructor who took the class to the next level, making me wonder what the actual f*ck was even happening. She spent the beginning and the end of the class giving us the most bizarre pep talk in history. I'm not talking "your body is a temple" and "love yourself" crap. Instead, we were told that when we walk, we "leave a trail of rainbows." She said we should "always keep smiling."
We were also encouraged to "get sexy." This involved a lot of air humping, ass swaying to the beat for cow pose and loosening our hips. By the time we entered corpse pose (that's what it's called, right?), I was so exhausted I had trouble rolling over.
And, the next morning, neither my co-worker nor I could move. I call that a serious workout.