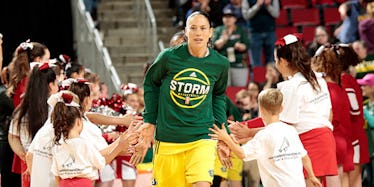 A Professional Sports Team Stood With Planned Parenthood For The First Time Ever
Joshua Huston/Getty Images
Regardless of the political party I identify with, as a woman, I proudly stand with Planned Parenthood.
As is the case with most women's issues, the vast majority of those speaking out for the nonprofit organization are women, so it comes as no surprise that the first professional sports team to show its support is a part of the WNBA.
On July 18, the Seattle Storms will host a Planned Parenthood Night in KeyArena's West Plaza, featuring a basketball game as well as a "Stand With Planned Parenthood" rally to raise awareness.
The event follows the team's Breast Health Awareness Night on July 8, which plans to raise both awareness and donations for the Swedish Cancer Institute.
A generous $5 from each ticket sold for the Planned Parenthood Night will be put toward the organization's funding.
In a statement for The New York Times, Planned Parenthood expressed its gratitude toward the sports franchise, and what its support can do for the organization:
This marks the first partnership we've ever had with a sports franchise. This event and their support will help raise awareness among their fans and sports fans broadly.
Now, more than ever, amidst the Trump administration's call for defunding Planned Parenthood, having a professional sports team backing the organization was a huge and important win.
It's undoubtedly exciting to see a big name like the Seattle Storms publicly supporting women's health care.
And while it's a proud moment for the organization that should be celebrated, it doesn't negate the fact that this kind of support should have probably already been there (and, I can't lie, it'd be even better to see that kind of support coming from male-dominated teams, as well).
Seattle Storms Co-owner Dawn Trudeau issued a statement in which she expressed the responsibility she and the team felt to make this move in support of the organization:
As individual Americans who are not legislators, merely citizens, we have felt hamstrung by our limited ability to make a meaningful impact in the national health care debate. Access to affordable, quality health care, including a full range of reproductive care, is a critical precondition for anyone -- especially girls and women, to pursue their dreams and grow into their best selves.
Still, more can (and should) be done to ensure Planned Parenthood continues to be available for women and young girls who need these resources.
The team's center power forward Breanna Stewart has been outspoken on her strive toward gender equality on the court, for women's rights, the LGBTQ community, and more. She's spoken out at the 2016 ESPY Awards and taken part in international protests.
Speaking on behalf of her star player's advocacy, coach Jenny Boucek expressed to ESPN that part of being a professional athlete is the powerful, public platform you're given, and the important responsibility that comes along with it.
All athletes have this platform. It's time they all started using it in favor of Planned Parenthood.
I genuinely hope this was the first of many professional sports teams to follow.
When it comes down to it, women's issues are human issues. Both genders not only need, but should be expected, to come together to support the clinic and all it has to offer for those in need.