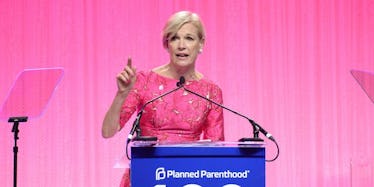 Planned Parenthood's Cecile Richards Has Inspiring 'Marching Orders' For You
Getty Images
Planned Parenthood Federation of America President Cecile Richards gave a passionate speech in New York on Thursday morning.
She was at the New York Women's Foundation Celebrating Women Breakfast, along with 2,000 other women from all walks of life and work.
The New York Women's Foundation honored Richards with the Celebrating Women Award. Other honorees include Linda Sarsour, co-chair of the Women's March, and Marley Dias, the 12-year-old who started the #1000BlackGirlBooks initiative.
Richards said she accepted her New York Women's Foundation award on behalf of both Planned Parenthood's patients and the people who keep locations running.
She promised that Planned Parenthood would continue serving as many people as possible.
"Our doors are open to everyone, no matter where you live, no matter your income, no matter your sexual orientation or your gender, and no matter your immigration or refugee status," Richards said.
She noted that "this Congress and this administration have had a bullseye on women," but she stays strong because "women are leading the resistance -- and we always have."
Richards applauded the mobilization of activists and protesters, from teenagers speaking out at town halls to old women carrying signs at marches.
"I do believe the lasting legacy of this moment in time will be the generations of women and others it has inspired and energized," Richards said.
Richards knows women are still trying to figure out what they can do to stand up against the rolling back of women's rights and women's access to health care.
"Everywhere I go," she said, "women stop me and ask me what to do."
So she provided a to-do list for those trying to figure it out.
Richards said,
I guess consider these your marching orders: Now's the time to call your member of Congress, call your senator, go to a town hall meeting, tell your story, support women's organizations, support women running for offices around the country and around the world. Don't wait for instructions, whatever you're already doing, it's time to do the next thing. We've got an enormously long road ahead of us, but we are doing this with joy and love.
Richards concluded her acceptance speech with a quote from Sojourner Truth,
If the first woman God ever made was strong enough to turn the world upside down all alone, these women together ought to be able to turn it back and get it right side up again.
You heard her. Get out there and get shit done.