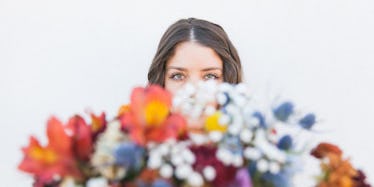 A Professional Bridesmaid Admits Why She Doesn't Want Bridesmaids At Her Wedding
Robert Zaleski
Before I was ever a bridesmaid for the very first time, a girl in my sorority sat me down over coffee and told me being a bridesmaid is only something a person should do once in their life. Every time after that, she said, would feel like a punishment.
I thought she was being dramatic, really. How bad could being a bridesmaid be? Sure, you had to wear a dress that didn't always flatter your skin tone and you had to spend a large chunk of the night dancing beside the bride's drunk uncle, but the role didn't seem all that bad.
And it wasn't, even when I had to do it for my friends more times than I could count on both my hands (and feet). And even when I had to do it for strangers, which I've done more than 40 times through my business, Bridesmaid For Hire.
Sure, I've had to do some unimaginable things, like touch poison ivy so a bride could stand in a certain area for a photo, be a bodyguard for a bride who fired her maid of honor and was scared she was going to crash the wedding, and even scoop up animal poop with both of my bare hands, so the bride could walk down the aisle without ruining her $4,000 dress. I've also had to do some fun things, like helping a bride write her wedding vows or going wedding dress shopping with her to help her decide between two dresses that made her heart flutter.
But even still, when I get married (whenever that is), I don't think I want bridesmaids. First of all, deciding between friends to pick a lineup of girls to stand beside you becomes awkward, especially when you're one of the last people in your circle of friends to tie the knot. By the time I'll get married, if I asked everyone to be my bridesmaid who asked me to be theirs (not hired, of course), I would set a world record for the number of bridesmaids I'd have.
I'd rather not pick and choose. I'd rather invite all my friends to come to my wedding duty free, and wear whatever dress they feel the most confident in. I'd rather plan my own bachelorette party, my own bridal shower and leave my friends alone before my wedding, since that's when I'll probably be an anxious mess. And I can easily see myself turning into a bridezilla who demands pizza and ice cream cake before every wedding conversation, decision or planning session begins.
I've been knee deep in the bridesmaid world for a good portion of my 20s. And I've seen firsthand how being a bridesmaid can ruin a friendship with the bride or a fellow bridesmaid forever. I'd rather take the stress and pressure off my closest friends and just ask one thing of them, and one thing only: Will you be the ultimate wedding guest?
I just hope most of them — who already have a minivan full of kids — will stay until midnight, at least, and enjoy the open bar. I'm paying for it, so I hope I have friends who will use it by then.