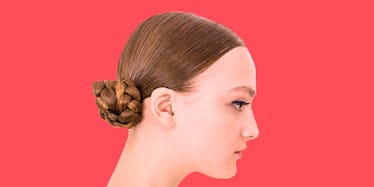 These Princess Leia-Style Buns Are The Coolest Part Of Fashion Week So Far
Mark Wickens
Fashion week is traditionally home to divas in taxicabs, endless smudgy liner and shoes so expensive they cost a cumulative six months of my rent.
I was pleasantly surprised to see cool-girl brand Mansur Gavriel making a nerdy statement on the catwalk. If the designer name sounds familiar, it's probably because your favorite Instagram style blogger has one of the brand's impossible-to-buy bucket bags.
Mansur Gavriel has always been about the chic and understated. So, when it came time to show a new collection, the brand pulled from an unlikely source: the "Star Wars" films.
Is anything cooler than '70s-era Princess Leia? She had an attitude, a laser gun and hot man candy on the side. I'd follow her style blog in a second.
This double-bun style comes straight from the hands of Laurent Philippon, global artistic director of Bumble and Bumble. It's ideal for real world wear, especially on days you just don't want to blow dry.
Try the super-simple hairstyle out for yourself by drenching hair in a protecting primer, or working with wet locks. Coat your mane with light-hold hairspray, just to nix any pesky fly-aways.
Using a comb, create an even center part from the crown to the nape of the neck, just like your mom probably used to do in grade school. Slick each section into a low ponytail, combing through in case of bumps. Princess Leia would never be caught dead with a messy bun.
To complete the look, braid each side and secure with invisible bands. Twist it around and pin securely, creating enviable Alderaan buns suitable for both fighting the dark side and picking up hunky pilots.
The 1977 called, and it's never seen buns this flawless.
Mansur Gavriel paid homage to a classic feminist, a move we always applaud.
May the force be with you (and your chic buns).