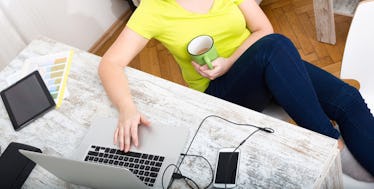 How The Plus-Size Blogging Community Changed My Relationship With Clothing
Shutterstock
Growing up as a teenager in the '90s, I didn't have many places to look for inspiration and role models. Magazines like Bliss and Sugar were considered the holy grails for teenagers, but they really didn't have anything for me.
Instead, they were filled with perfect-looking models who made me doubt whether or not it was OK to look the way I looked. Thankfully, I didn't grow up hating my body. But, the one thing I did hate was my lack of fashion choices.
While my friends spent their Saturdays window-shopping at the local mall, I stayed at home. I often made up excuses as to why I couldn't attend. I still remember wandering into H&M in my early 20s and seeing the plus-size section. I remember buying a pair of black wide-leg trousers and a red and black striped top.
I don't think I'd ever been happier, but that was a rare treat. It wasn't often repeated. That is, until I discovered plus-size blogging. I'd been reading blogs for a while, and I loved seeing plus-size women being confident and loving their bodies. It was one of the first steps toward being truly comfortable with the word "fat" and how I looked.
How Plus-Size Blogging Changed My Life
When I initially became a plus-size blogger, I probably owned around three dresses. Now, I own over 100. I know this doesn't seem like much to many people, but having that variety of choice is nothing less than fantastic.
Of course, plus-size fashion in general has changed over the recent years. However, the world of blogging helps me get access to these kinds of clothes. I now have a better knowledge of what is available.
Shop 'Til You Drop
Thanks to these blogs, I now know I have many different retailers to choose from. This means that on pay day, I can treat myself to something new to wear just like a normal person, without having to go through the trauma of visiting stores that don't stock my size.
Also, I now have all these retailers on social media. This means I can window-shop online and get tempted to part with my money, just like everyone else can. I know this doesn't seem like a big deal to many, but it really is a fantastic feeling when you are plus-size. It all started when I took the massive leap of faith to become a plus-size blogger.
Finally Able To Afford Fashion
When I first started as a blogger, I used it as an excuse to buy new clothes. I wanted my blog to be fresh, and I felt that buying new dresses was the only way to do that. Of course, I couldn't keep up the habit of spending without thought for too long.
So, I had to become savvier. Thankfully, the world of social media came to my rescue once again. I learned how to shop in a different way.
Now, I don't shop online without using cash back websites and discount codes. I also make sure I check the websites to see all the free stuff that's being offered. You'd be surprised at how much you can benefit from this.
Now, thanks to the world of online blogging, I have a wardrobe full of the types of clothes I want to wear, rather than the types of clothes society dictates I should wear. Even better than this is the fact I save money by online shopping and checking for online freebies every day. Therefore, I can justify treating myself even more, and who doesn't love a bargain?
Plus-size blogging has changed my life in so many ways, and I will always be thankful. A pretty new wardrobe has definitely been one of the biggest perks, though.