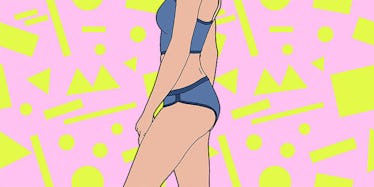 I Tried Every Kind Of Period Panty, And Here's What You Need To Know
Kylah Benes-Trapp
To the many pairs of stained, worn-out period panties I've owned over the years: I'm sorry, but I can't do this anymore. It's not you, it's me. I've moved on to something better: underwear specially designed to keep me dry and happy during the seven worst days of my month.
Surely by this point, you've seen the controversial ads. Orange slices that look a lot like vaginas plaster the subway cars of New York City, and several brands have taken the time to set up cute, mail-to-self menstruation boxes.
In 2016, having a period isn't a thing you should feel terrible about because women-run brands are making menstrual cycles sexy.
But, as with all brand-led initiatives, you probably wonder if it's worthwhile to spend extra cash on period underwear. Is this just a gimmick? Comfortably swaddled in oversized granny panties from a Black Friday sale at Victoria's Secret more than four years ago, I considered the dilemma. Then, I put my uterus on the case.
Over the course of the last three months, I've worn, washed and studied more than 10 pairs of supposedly leak-proof underwear from four brands: Thinx, Lunapads, Dear Kate and Knix Wear. Pairing them with a menstrual cup, I've observed their performance on heavy days and light, under thin sundresses and worn solo.
I'm essentially the Consumer Reports of period panties at this point. I hand out recommendations to my friends without ever wondering if unsolicited advice about someone else's flow is tacky.
And now, my fellow Red Tent-er, I'm here to give you my honest take. Every pair I tried — most in sensible and stylish black — guarded against leaks perfectly when paired with a cup.
Should you get out your wallet and shell out $30 for what's essentially very thick underwear? Well, that depends on what you're looking for. So, I've helpfully awarded my favorite pairs superlatives.
Best Undies For Wearing To Bed When Your Flow's Out Of Control: Thinx Boyshort, $39
Thinx Boyshort, $39, Thinx
Ah, the halcyon first days of a period. If you're anything like me, blood's flowing at such a pace it almost seems like it couldn't possibly be good for you. Terrified of wanton bleeding all over the things I love most in life (read: my precious white sheets), I lock my ladybits down like a feminine Fort Knox.
Ultra-chic panty brand Thinx lives up to the hype, in my experience. The boyshort style will hold blood equivalent to one full tampon, and that's if you're just free-bleeding, which I was not. The underwear has a 95 percent cotton interior for maximum breathability with a nylon and elastane exterior that looks a lot like your favorite Lulu leggings. This particular pair made my butt look like Sporty Spice's, all while keeping my sheets totally clean.
Best Undies For A Skirt Or Dress: Knix Wear Lace Leakproof Boyshorts, $32
Lace Leak-Proof Boyshort, $32, Knix Wear
Like all women, I love to feel secure and comfy while on my period. However, a time may come when you have to pull on a bodycon skirt and attend happy hour because your friends rudely don't plan their social calendars around your womb. If that happens, Knix Wear's lace panties are your new best friend.
The brand bases its lingerie off extensive research, which means this is the smartest pair of undies you've probably pulled on. The crotch has an extra cotton liner sewn in, so you won't have to worry about leaving dinner with an extra surprise on your skirt. File this pair under "least likely to seem like period panties."
Best Undies For When You're Still Planning On Getting Laid: Dear Kate Billie Hipster Mini, $36
Billie Hipster Mini, $36, Dear Kate
Life doesn't stop just because your ovaries have decided to explode. (That is what happens during a period, right? I envision it something like the destruction of Alderaan.) Sometimes, a lady needs a little action, and no partner has ever been turned on by stained, ratty undies.
If you're trying to play the temptress, I recommend this pair of Dear Kate undies. The front might be demure, but the back is transparent mesh. With all the flirtiness and none of the visible menstrual blood, it's just the way we like it.
Best Undies For Pretending This Period Isn't Happening: Thinx Hiphugger, $34
Once my initial flow slows down to a steady drip, I do my best to go about my life without actively whining. Frankly, that's easier when I'm not trapped in enormous bloomers, so I've been all about this hiphugger style. The lace waistband gives seamless stretch and a bit of prettiness. Plus, it reminds me of my treasured Hanky Panky collection.
These hiphuggers offer full coverage and leak protection but don't leave a visible panty line. As an added bonus, they'll hold up to two tampons' worth of blood.
Best Undies For When You Absolutely Need A Thong: Dear Kate Ada Thong, $32
Like so many things in life, thongs are an unfortunate necessity. Even during my menstrual cycle, amid cramps and bloating, I occasionally have to put on a pair of leggings and look presentable. Luckily, the smart women designing period underwear have prepared us for that eventuality.
I tried several styles of full-coverage thongs, but the Ada won. The lining was thicker, but the lace band allowed me some comfiness and stretch. If you have to put on a glorified G-string, it should be this one.
Best Undies For Hitting The Gym Without Fear Of Leakage: Thinx Sport, $32
Sport Panties, $32, Thinx
If you don't get within a mile of your gym during period week, I don't blame you. For me, however, working out is a good way to even out my hormonal moods and keep cramps at bay. Wearing panties to the gym isn't something I normally condone, but I didn't spend $80 on my Nike training tights just to have them ruined.
This sporty style has a split leg, like those terrifyingly small track shorts your dad wore in the '80s. (Yeah, that'll take therapy later.) The design allows for extra movement without any of the cutting-off-circulation feelings regular bikini styles can cause.
So, my fellow menstruation mavens, how are you feeling? All of my picks have served me well through three periods, which is longer than most regular panties last. Sure, you could throw down $6 time and time again for panties that can't take the heat — uh, blood — or you could invest.
Happy bleeding!