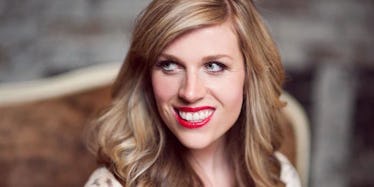 7 Tips For Becoming A #GirlBoss From A Woman Who's Revolutionizing Lingerie
linkedin
I've never really been a big fan of underwear, to be perfectly honest. Boy shorts bunch up; bikinis never seem to fit right, and thongs might as well be called permanent wedgies.
Thanks to Knix Wear Founder Joanna Griffiths, however, the future of undergarments has arrived. Knix Wear focuses on blending beautiful designs with functionality to make women's underwear that looks great while being breathable and absorbent.
I spoke with Griffiths recently about what it takes to be a female business owner and how it feels to make women feel sexy every day.
She had a lot of thoughtful advice to offer women looking to start their own businesses.
First step?
Brainstorm with your mom.
Knix Wear was designed with every woman in mind -- from new mothers to busy working women to all of us who just want to keep our periods in check. The idea originally came from one eye-opening conversation Griffiths had with her mom.
My mom's a doctor and a mother of four, and we were having a chat about the realities of being a woman and what happens to your body when you start having kids. And I was really astounded to figure out the statistic that one in three or four women, after they start having kids, can leak a little when they do jumping jacks or laugh or jump on a trampoline.
First you go through childbirth and then you can't jump on trampolines?! With all the sacrifices women have to make, our underwear should at least be functional. Griffiths thinks the exact same thing, saying,
I just couldn't believe there wasn't a better solution out there, you know? Our technology has come so far and yet the thought that I was going to be in my 30s having my first kid and making a pit stop at CVS to, like, pick up Depends didn't make any sense to me.
It doesn't make sense to me either, Joanna. Luckily, she had a plan to change all of that.
Go back to school if you can.
After starting her company at the age of 28, Joanna is now a 32-year-old successful business owner. But, as she explained to me, it didn't happen overnight.
To get where she wanted to go, Griffiths decided to go back to school to get her MBA. At 27, she made a drastic career shift, essentially starting from scratch. With hard work and commitment, however, she was able to win the money she needed from her business school to launch her own company.
While it started with one specific issue new moms face, her idea for the brand grew as she started talking to other women.
The more she asked around, the more women expressed problems with leaking during their periods and sweating a lot during workouts, making their usual underwear very impractical.
Crowdsource some funds.
She realized her idea to make underwear sexy and still functional resonated with thousands of women after her Kickstarter campaign smashed its $30,000 goal by raising over a million dollars.
When I asked Griffiths how the hell she did that, she said,
Those campaigns can go either way. I think a lot of it has to do with the product and the concepts, but a lot of it has to do with timing and luck as well.
Reach out to celebs who might like your product.
For her, timing came in the form of George Takei hearing about the product and sharing a post about Knix Wear on his Facebook page. Thanks to the "Star Trek" star, her campaign raked in "100 grand within 24 hours," which, according to Griffiths, "was amazing."
In response to that windfall, she said,
There are things like that that you can plan, and you can plan and you can plan, but there's no way you can say, 'OK, on day eight, George Takei will put up a Facebook post.'
Yeah, probably not, unless you're, like, George Takei's favorite niece or something.
Branch out and share your ideas.
Still, Griffiths says there are practical things you can do to boost your business when you're first starting out. A word of advice for fellow female entrepreneurs: "Don't operate in a silo."
While some business models follow the practice of keeping all of your ideas a secret, Griffiths advises doing the exact opposite. "Float ideas by your customers," she told me, "Get their input, get them to tell you what they like, what they don't like."
According to Griffiths, that's really the only way to improve your product.
Don't listen to the haters... too much.
On your way to becoming the next big #GirlBoss, it's important to remember there are going to be haters trying to slow you down. While constructive criticism is great, be mindful of what opinions you can toss.
Some questioned Griffiths' choice to get into the lingerie business at all by asking whether she was worried about getting knocked out of the market by competing brands. To that she says,
There's no way in hell that Victoria's Secret is going to come near sweat and odor and periods. It's just the antithesis of their marketing method.
Um, no. I can't even imagine a Victoria's Secret model farting. JK, I just did and it made me giggle.
Love what you do.
At the end of the day, Griffiths is happy with the work she does because she's following her passion and promoting an important cause. She told me,
We get love letters from some of our customers just telling us how we're making their everyday better and that's what we're all about. We're not transforming the universe or anything like that, but if we can make women feel confident on a daily basis and feel comfortable and beautiful, then I think we've sort of done our little part.
If we can feel a little more confident when battling bloating and cramps, I'd say that is transforming the universe.
You can buy your own pair of Knix Wear undies here.