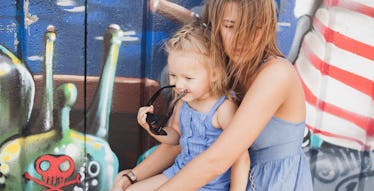 Woman Stands Up For Female Sexuality By Wearing Lingerie In Public (Video)
Stocksy
Feminist performance artist Diana Oh is taking a stand in support of female empowerment.
The actress and artist created a performance art installation called My Lingerie Play, in which she and other women stand on elevated platforms in crowded areas of New York (including Times Square) wearing nothing but lingerie.
Her goal? To bring awareness to the criticism that accompanies women expressing their sexuality and independence.
As part of the performance art, Oh and her female volunteers hold signs that vividly describe violations women face due to society's perception of the female body.
The violations she outlines include everything from "being catcalled" to "being told to be unnaturally thin."
Oh created a public service announcement to publicize My Lingerie Play and invited other women to participate in the movement.
In the video, she explains,
We are not asking to be harassed, abused, talked down to or violated, no matter what we're wearing.
Our sexualization, she explains, is our own. Women should be able to express themselves and own their bodies without being subjected to discrimination or victimization.
Her conclusion is simple. She says,
The solution is to change the way we are talked about.
See Oh's powerful PSA -- and the first in the series of her public installations -- in the videos above and below.
Head to My Lingerie Play's Facebook page to learn more about Oh's mission.
Citations: Artist Diana Oh Is Wearing Lingerie In Public To Reclaim Womens Sexuality (Huffington Post)