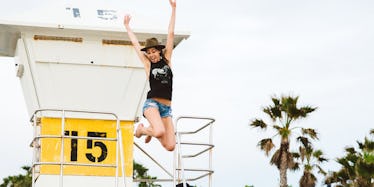 7 Awesome Onesies That Prove You're Never Too Old For Holiday PJs (Photos)
Stocksy
When we were kids, our parents would dress us up in our yearly Christmas pajamas, and we would bitch and moan because we weren't "cool" or whatever.
As adults, we completely embrace the weird. We love everything about Christmas pajamas.
And we even want to take it a step further, pushing the fashion boundaries to reach new, epic proportions of hilarious and ridiculousness.
Cue: THE ONESIE.
Sure, you're not a wee tyke anymore, but that doesn't mean a onesie isn't your absolutely IDEAL Christmas pajama. In fact, I'm sure you'd love the opportunity to wear one every single night.
All that coziness doesn't need to be confined to one particular time of year.
Stay warm throughout the entire winter with the best adult onesies for Christmas and beyond!
For the animal lover
[caption id="attachment_879603" align="aligncenter" width="600"] ASOS[/caption]
Onesies are uniquely adorable and so are cute, fuzzy forest creatures. Stay cozy and become your favorite woodland creature with the addition of ears. Be careful if you choose a white rabbit, though: You don't want to spill your eggnog and jack up your new pajamas.
For the kid that always fits in
[caption id="attachment_879902" align="aligncenter" width="600"] onepiece[/caption]
Go camo with a onesie in this print and you'll be able to avoid Aunt Gladys throughout the entire holiday season.
For the classic dude
[caption id="attachment_879720" align="aligncenter" width="598"] ASOS[/caption]
If you're going to rock the onesie like a truly classic dude, try something in a nice navy or black with a simple pattern.
For the sports fan
[caption id="attachment_879743" align="aligncenter" width="600"] Zooop It Up[/caption]
Look, she's a giant football! What's not to love?
For the one who keeps up with all the modern slang
[caption id="attachment_879934" align="aligncenter" width="600"] ASOS[/caption]
This FML onesie is the best thing for holidays because how often do we end up saying that? Whether it's helping mom cook or buying a gift for our impossibly picky father, we're constantly saying, "FML!"
For the punk pug
[caption id="attachment_879978" align="aligncenter" width="600"] Asos[/caption]
If you're looking to go modern but funky, cool but collected, pretty but pug, we've got the onesie for you.
For the one who likes some nautical nonsense
[caption id="attachment_879942" align="aligncenter" width="600"] Onepiece[/caption]
Ahoy, captain! Go sailing into your dreams in this awesome navy and white striped onesie. It's comfy, yet still has a grown-up vibe despite its inherent onesie-ness. It's about as chic as you can get in the onsie department