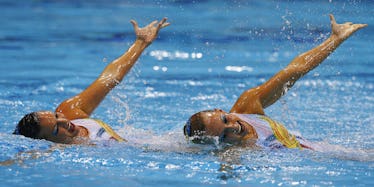 Olympic Swimmers Have The Secret To Keeping Your Hair Perfect In Water
REUTERS/Michael Dalder
If you're going to have the entire world watching you as you compete in the Olympics, you probably want to look your best for the occasion.
But every athlete knows this is easier said than done.
Between the sweat, the elements and the vigorous movements, it can be pretty hard to keep your hair and makeup intact while playing most sports.
However, it turns out Olympians have found a few tricks to keeping their faces smudge-free and their locks looking fabulous, even underwater.
During a recent interview with Vogue, American synchronized swimmers Anita Alvarez, 19, and Mariya Koroleva, 26, spilled the beans on their go-to beauty products.
And they look pretty perfect to me, so whatever their trick is, it's working.
If you're going to be twirling around in a pool, waterproof makeup is definitely a must. So it totally makes sense that Alvarez and Koroleva rely on Make Up For Ever's Aqua Seal ($21) to liquid-proof their look.
However, their beauty hack for a budge-free hairdo might surprise you.
Apparently, these ladies forgo the typical hairsprays and gels for a wiggly-jiggly Jell-O substitute.
That's right. These elite swimmers use a mixture of Knox gelatin and water to slick back their strands before donning their do's with accessories and diving into the pool.
And with moves like this, the last thing you need is your hair getting in the way.
The Olympians told Vogue,
It turns into a gooey mixture. You comb or brush that into your hair, put it up in a bun and put a headpiece over that, so when it dries, it gets really hard and your hair doesn't fall out when you swim. We like to add glitter and other decorations to it — it's easy.
Next time you're competing against some of the world's greatest athletes — or, you know, simply heading to a backyard pool party — you can use this little trick to ensure your tress will stay tame.
Citations: The Unexpected Reason Olympic Swimmers Swear By Putting Gelatin in Their Hair (Pop Sugar)