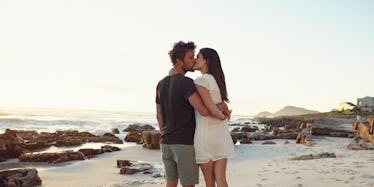 New Study On 'Slut Shaming' Shows It's More About Economics Than Sexual Partners
Here's something new: The results of a meticulous study conducted by two researchers have determined that the word "slut" — seemingly tossed around glibly between girlfriends, but also viciously cast at enemies — has a lot less to do with a female's sexual habits, and everything to do with her socioeconomic status.
Elizabeth Armstrong and Laura Hamilton, sociologists at the University of Michigan in Ann Arbor and the University of California, respectively, infiltrated a female dorm building at Midwestern University in 2004.
Following their female subjects all the way till graduation, the two asked them questions about sexuality and the ever-popular "slut" word.
As the women went through different paths in college — the wealthier becoming sorority girls and the middle and low-income individuals being shunned from or opting out of the Greek system — the sociologists noticed that their subjects developed different conceptions of what the word "slut" meant.
According to the study's conclusion, the supposed low-status group of women used "slut" when talking about "rich bitches in sororities." The high-status women connected sluttiness with women who they believed acted "trashy" or not "classy."
Armstrong and Hamilton believe that, by drawing the distinction of who constitutes a "slut" on class lines, women have created a system that allows them to deflect the stigma associated with the term away from themselves, while still policing the behavior of their peers.
And interestingly enough, the system that each group of women had for determining who was a "slut" was tied to socioeconomic cues, like what clothes she wore, what makeup brands she used and her conversation style, while actually having very little to do with a female's number of sexual partners.