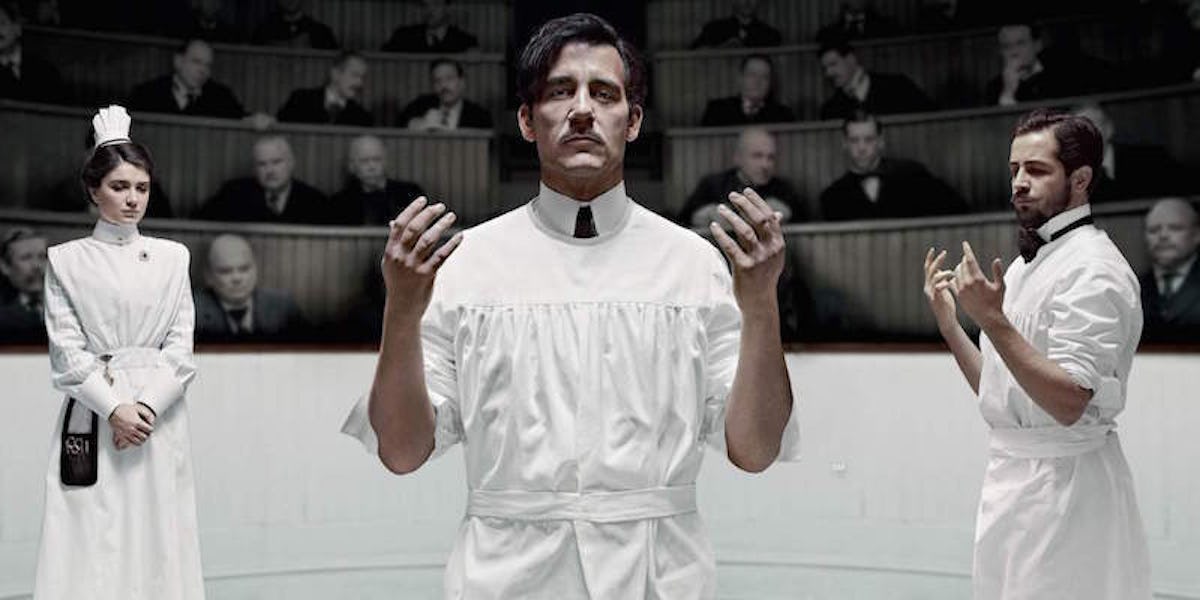 If You Haven't Heard Of These TV Shows, You're Seriously Missing Out
Cinemax
While some women are assembling dating rosters for cuffing season, others are happily scrolling On Demand options and compiling Netflix queues.
Instead of re-watching "House of Cards," pull yourself away from your usual lineup and dive into some hidden gems.
We get it, no one wants to waste precious time sifting through bad reality TV to figure out what's Emmy-worthy or what should be dumped next season.
Please, don't force yourself to stay confined to your usual catalogue on account of time. Instead, read through these seven lesser-known shows you should definitely become a fan of.
Showtime: "Ray Donovan"
The dark dynamic of seedy-meets-high-profile crime shouldn't be sexy. But when you've got a gun-toting Wolverine Liev Schreiber at the helm, it's fairly easy to find yourself cheering for the bad guy.
Don't think you've got this showed pegged, though. It's more than simply an Irish Bostonian blazing automatic weapons. Surprisingly, there are extremely truthful takes on love and family.
Catch up when: You need to confirm your life's not so bad.
You'll love this show if: You love morally corrupt, complex characters.
Adult Swim: "Black Jesus"
Though God may not approve, this semi-blasphemous comedy is a light-hearted take on hood principles. Directed by Aaron McGruder, creator of "The Boondocks," the show's Jesus (Gerald Johnson) and his loyal followers bring the Bible to the 21st century.
Catch up when: Your house runneth over with friends and good food.
You'll love this show if: You're well-versed in scripture, but also smoke weed.
ABC: "Quantico"
Alex Parrish (Priyanka Chopra) takes on the government and her former friends in search of the truth. But with every professionally trained FBI recruit as a potential suspect, it's too hard to tell who framed her.
With flashbacks and strategically scattered clues, this premiere season of Joshua Safran's series is off to an intriguing (and steamy) start. One that would certainly trip up even the likes of Nancy Drew.
Catch up when: You've got to deep condition your hair on a Friday night.
You'll love this show if: You're into mystery, and you overdose on "How To Get Away With Murder" every Thursday.
Cinemax: "The Knick"
The surgical procedures performed in this 1900s drama make "The Gangs of New York" look like "Peter Pan."
Dr. Thackery's (Clive Owens) mad scientist approach to medicine ensure you will binge-watch without bathroom breaks.
Don't assume the show's a boring round-up of dying patients. It has a host of great characters to round out topics that touch on race, women's rights and drug addiction.
Catch up when: Your weekend plans consist of nothing more than lounging in bed.
You'll love this show if: You're into archaic medical procedures and just a few historical inaccuracies.
Showtime: "The Affair"
This Golden Globe award-winning drama has raw honesty, making it hard to watch the nuances of infidelity.
However, Ruth Wilson and Dominic West's extramarital activities are easy to indulge in. Hour after hour.
To say it isn't a painfully slow narrative at times would be a false assessment of the show. But its layered storytelling and dissection of memory may will you to power through.
Catch up when: You have a few recent heartbreaks to cry about and pints of Talenti to devour.
You'll love this show if: You're into feels.
TV Land: "Younger"
Head to this channel for more than just "The King of Queens" reruns.
Sutton Foster, Hillary Duff and Debi Mazar take the reigns in this lady-led sitcom about a 40-year-old Liza Miller (Foster) who hits reset in the workforce.
Soon she realizes it's better to lie in order to compete with professional women half her age.
Catch up when: You're tired of watching "Sex and the City."
You'll love this show if: You want to laugh at the expense of your potentially future self.
HBO: "Show Me A Hero"
Would you expect anything less than a compelling tale from the creator of runaway hit series, "The Wire"?
Oscar Issac stars as former Mayor of Yonkers, Nick Wasicsko, alongside an award-winning cast, including Winona Ryder and Jim Belushi.
Admittedly, it's slow to start. But once you're engaged in Wasicsko's fight to desegregate public housing, you'll easily cancel brunch plans with friends.
Catch up when: You can pull yourself away from the presidential debates long enough to give it your undivided attention.
You'll love this show if: You like your shows with a bit of real-life drama and historical authenticity.
ABC: "Fresh Off The Boat"
This comedy series is based on the life of celebrity chef Eddie Huang. It's remarkably light, even though it revolves around cultural differences and a Taiwanese family chasing "The American Dream."
As 12-year-old Eddie Huang (Hudson Yang) is thrust into a suburban life from his DC beginnings, teenage adolescence and "WTF" racial jokes collide for more amusement than Six Flags.
Catch up when: You're avoiding any melodramatic feels.
You'll love the show if: You're a hip-hop head who loves the 90s.