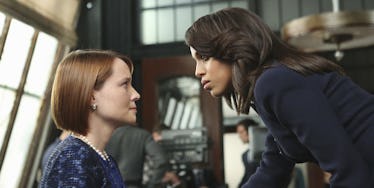 6 Life Lessons We Can Learn From Shondaland Shows (Spoilers)
Disney–ABC Domestic Television
Communion and bible study are to Christians as what Shondaland and red wine are to my sanity.
Stomaching another season of Olivia and Fitz's theme music is daunting. Still, the way Shonda Rhimes' Thursday lineup -- "Grey's Anatomy," "Scandal" and "How to Get Away With Murder" -- sparks thoughtful, albeit melodramatic, dialogue on #BlackLivesMatter, infidelity, love and professional success is masterful.
The head writer and executive producer leaves room for lessons applicable to real life.
From George O'Malley's death (no, I'm still not over it) to Cyrus Beene's rants, Rhimes' strategically selected cast of complicated characters prove other people's mistakes can potentially stop us from bedding the wrong guy (#TeamJake!).
While we've learned the importance of a badass coat and ice-cold side-eye, there's more. Here are the practical life lessons learned from #TGIT.
1. Life is not meant to be lived without your "person."
Who Taught Me: Meredith Grey (Ellen Pompeo) What I Was Watching: "Grey's Anatomy"
Don't assume your closest confidant is the man you'll eventually marry after shutting down a series of douchebags.
Long before McDreamy put a ring on it, Meredith found her true soulmate: Cristina Yang.
Their survival of life's dark, twisty turns -- pregnancy scares, a plane crash, a mass shooting -- justifies your need for a ride-or-die queen.
Sometimes these women are in our corner from birth. Other times, we find them in our fourth-grade math class or across the hall from our college dorm.
It's just about the hardest relationship to nurture. But when it's right, it's forever.
2. You don't need a man to rescue you.
Who Taught Me: Abby Whelan (Darby Stanchfield) What I Was Watching: "Scandal"
Everyone looks to Liv for the answers. However, when it comes to relations with men, it's best to seek Abby's surprising wisdom on the matter.
Though "Red" started off as a battered woman saved by Liv and the Gladiators, her belief that women can save themselves is powerful.
By now, we know women run the world. Abby merely reinforces that female autonomy should be exercised, even at our weakest.
3. You don't have to want a baby.
Who Taught Me: Cristina Yang (Sandra Oh) What I Was Watching: "Grey's Anatomy"
Not all women want to be barefoot and pregnant, nor do they define success as being a wife and mother.
Though society assumes childbirth is the only way to fully actualize womanhood, Cristina adamantly rejected occupying her womb.
Sandra Oh's layered character made it okay for women to reach for top accomplishments at work. Cristina's beauty was in her brain, as she so eloquently voiced. Not to mention, stifling her surgical talent in season six almost crippled her.
So while "having it all" is trending, it's perfectly okay to define which part of "all" means success to you.
4. Don't date absolute strangers.
Who Taught Me: Wes Gibbins (Alfred Enoch) What I Was Watching: "How To Get Away With Murder"
Being the new kid is always scary, but dating the local "pharmacist" won't up your campus cred.
Even on dating apps, you should stick to people you can trace to a real job, real friends and real (safe) hobbies.
Find at least two decent people to vouch for your potential love interest. If not, you could end up being a prime suspect in your date's murder.
5. Always have a Plan B.
Who Taught Me: Olivia Pope (Kerry Washington) What I Was Watching: "Scandal"
Plan B isn't just a backup plan for broken condoms. Life is like a chess game, and it's in your best interest to stay several steps ahead.
No one understands that better than an HBIC who thrives off of fixing people's toughest problems.
Whether it be a red wine spill or your dad trying to murder you, making sure you have plentiful resources at your disposal is key.
Either way, you've got it.
6. You have to take what you want.
Who Taught Me: Mellie Grant (Bellamy Young) What I Was Watching: "Scandal"
When life gives you lemons, steal more. Hypothetically, of course.
Though lying, stealing and killing can't get your far in real life, Mellie reinforces that having tunnel vision can grant you the world. Or perhaps, the senate seat.
Remember, nothing worth having is earned. Sometimes, you just have to take it.
Where there's a will, there's a way, right?