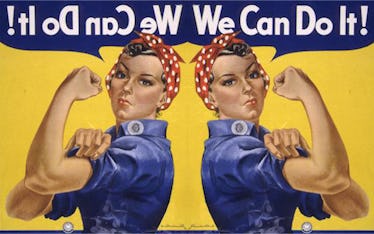 The Real MVPs: 24 Female Millennial Influencers You Should Know
When hearing the phrase "influencer," vapid selfie queens, bootylicious party hosts and Instagram babes come to mind. But these Insta-famous few were never the ultimate definition of cool.
Likes and Twitter followers aside, true pop culture heroines are women who use their star status to make an impactful, worldwide change.
Whether they're in the limelight or diligently working behind the scenes, women are influencing youth in every industry, from arts and entertainment to human rights and politics.
But TBH, many of us don't know who these powerful women are.
We know it's tough to stay up to snuff on every woman worth knowing. As a reminder, here's a quick cheat sheet on 24 Millennial women changing the world in insurmountable ways.
Who: Amna Farooqi, President Of J Street U
Age: 21 Why she's cool: As J Street's first ever Pakistani-American Muslim president, Farooqi balances her senior year at the University of Maryland with the job of overseeing roughly 4,000 active members of the pro-Israel organization. While promoting peace and fighting for a two-state solution in the Middle East, Farooqi stands by Israel but not its policies.
 Who: Zendaya, Actress
Who: Malala Yousafzai, Human Rights Activist
Age: 18 Why she's cool: At just 15, Yousafzai survived an assassination attempt by the Taliban for her advocacy of young girls' education and human rights in Pakistan. For her constant fight against the suppression of children and young people, Yousafzai became the youngest ever Nobel Peace Prize laureate at the age of 17.
Who: Jazz Jennings, Transgender Teen Activist
Earlier this year, she landed a deal with Clean & Clear for a beauty campaign that actively encourages all teens to stay true to who they are, whomever they may be.
Who: Tanya Burr, YouTube Superstar
Age: 26 Why she's cool: With a badass Spice Girls-approved accent, Burr became ambassador to the United Nations' Global Goals initiative. The program aims to help end poverty, fight inequality and tackle climate change over the next 15 years.
Out of the 17 targeted goals established by 193 UN world leaders, the popular blogger's number one focus is gender equality.
Who: Ingrid Nilsen, Beauty Vlogger
Who: Amandla Stenberg, Actresshttps://instagram.com/p/76ygq6m1cL/embed/
Age: 16 Why she's cool: Though Stenberg's feminist ideals may come in the form of Instagram comments, the "Hunger Games" actress promotes intersectional feminism with the wisdom of women twice her age.
Who: Lara Setrakian, Founder of Syria Deeply
Age: 33 Why she's cool: As an award-winning journalist, Setrakian founded Syria Deeply, a single issue news website (one of the first of its kind) covering the civil war in Syria.
She runs an independent digital media group while using new technology to add greater depth to conversations surrounding global crisis.
Who: Andreja Pejić, Trans Model
Who: Emma Watson, actress and UN Women's Goodwill Ambassador
For this successful campaign and her overall feminist efforts, Watson landed on the TIME 100 list this year.
Who: Behnaz Shafiei, Iranian Motocross Rider
Who: Aja Brown, Mayor of Compton, Calif.
Who: Michaela DePrince, Ballet Dancer
Who: Malina Suliman, Artist
Who: Tima Shomali, Arab Comedian/Actress
Who: Caitria & Morgan O'Neill, Founders of Recovers.org
Who: Kathryn Budig, Founder of Aim True Yoga