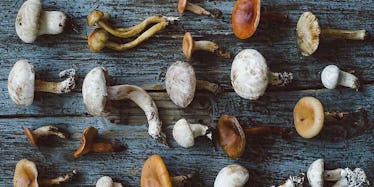 This Ingredient Is In Nearly All Your Skincare And You Didn't Even Know
Branislav Jovanović
We're obsessed with what goes into our bodies. We stuff our faces with organic green juice, grilled chicken and water. We read ingredient lists and obsess over the chemical makeup of virtually every food that passes through our systems.
If we're so particular about what we put into our mouths, why aren't we doing the same thing for what goes on our faces?
In fact, we bet if you went through the list of ingredients in your favorite moisturizer, you wouldn't even know what most of the stuff is. Wait — you knew your moisturizer had an ingredient list, right?
One component we've been noticing everywhere is also coincidentally our favorite pizza topping: mushrooms. Yup, you've been lathering up a paste of 'shroomy goodness on your face every morning and night and you didn't even know it.
Not every mushroom is created equal. From porcini to shiitake, check out what these fungi can do for you.
Shiitake 'Shrooms
What it does: Debra Jaliman, author of "Skin Rules: Trade Secrets From a Top New York Dermatologist," says these awkwardly-named mushrooms have a high concentration of vitamins and lipids, which makes them super moisturizing for the skin.
Skin Rules: Trade Secrets From a Top New York Dermatologist, $13, Amazon 
They are also great for acne scarring. Dr. Dhaval G. Bhanusali raves about how the ingredient is laden with antioxidants and can stimulate epidermal skin cells.
Where to find it: Aveeno Positively Ageless Active Naturals Night Cream, $25, Amazon 
Portabello 'Shrooms
What it does: These giant fungi are packed with ergothioneine, a potent antioxidant compound, which can help repair skin damage from pollutants. They are also rich in zinc - a key component for healthy skin.
Where to find it: LUSH Fresh Handmade Cosmetics Full of Grace Moisturizer, $15, LUSH Cosmetics 
Silver Ear 'Shrooms
What it does: This stuff is rare, so good luck finding it in your local supermarket. Silver Ear 'Shrooms are nature's hyaluronic acid, a component that helps heal wounds and burns. Since these mushrooms can hold up to 500 times own weight in water, they are incredibly moisturizing. They are also a natural antioxidant and can aid in protecting the skin from all the crap in the air.
Where to find it: Jurlique Nutri-Define Multi-Correcting Day Cream, $98, Sephora 
Reishi 'Shrooms
What it does: These freaky fungi have antioxidant, anti-cancer and anti-inflammatory qualities. They are even used for boosting immunity. Basically, Reishi 'Shrooms are the real MVP.
Where to find it: Dr. Andrew Weil for Origins Mega-Mushroom Skin Relief Eye Serum, $48, Sephora 
Maitake 'Shrooms
What it does: These flowery-looking caps are jam-packed with beta glucans that protect your body by strengthening your immune system. Basically, they are the remedy you need when you have a cold you just can't shake. In Japan and China, they're used to treat diabetes and hypertension. On your skin, these mushrooms strengthen your cells and moisturize your outer layer.
Where to find it: Luminance Skincare Maitake Nourishing Facial Mask, $18, Luminance Skincare