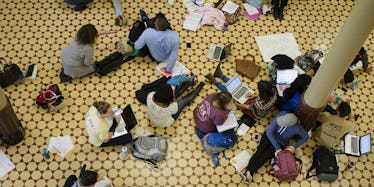 The Mizzou Student Protests Have Restored My Faith In Racial Progress
I've listened to Kendrick Lamar's anthemic affirmation "Alright" countless times since its release.
However, it wasn't until 11 black students at the University of Missouri ousted their president on November 9 that I truly felt black people would be, well, alright.
In the past month, the University of Missouri repeatedly failed to react to racism on its campus. These inexcusable incidents, which included students openly using racial slurs, caused graduate student Jonathan Butler and 10 other African-American demonstrators to form Concerned Student 1950, a group named for the year the school first allowed black students to enroll.
In addition to submitting a list of demands to the university, including an adamant request for President Tim Wolfe's resignation, Butler began a hunger strike in order to have the group's goals heard.
When the university's football team, the Mizzou Tigers, joined forces with protesters, the African-American students finally had the school's ear.
According to CNN, the athletes' boycott would have cost the team a $1 million cancellation fee had it forfeited its weekend game against the Brigham Young University Cougars.
Once circumstances threatened university's pockets, the administration had no choice but to fess up to its mismanagement of black student affairs.
Following a written statement, Wolfe resigned. After only a few hours, Chancellor R. Bowen Loftin also stepped down.
Most recently, amid growing tension and media uproar, malicious threats popped up on social media and a "phoned-in threat" was made to the campus' Black Culture Center, according to university police.
It seems that finally, racially-fueled situations are no longer going unnoticed.
For the past two years -- following George Zimmerman's acquittal of the murder of unarmed teenager Trayvon Martin -- young black people everywhere have become increasingly more aware of the systemic mistreatment of our community.
To be frank, we're fed up. The University of Missouri's attention-grabbing protests are simply the result of a limit a lot of us have reached.
We've held up our hands in protest, banded together around hashtag-led social movements and organized to overcome largely unreported racial matters and police brutality against black communities.
Still, we've yet to reap the long-lasting results we seek.
I'll admit; I was weary after the Spring Valley High School assault, where a police officer body slammed a young black girl in her classroom. Still, I once again feel that racial progress is imminent.
Complete racial equality may be a farce or a state of being I'll never witness in my lifetime. However, witnessing what young, organized demonstrators are capable of in 2015 is truly inspiring.
In the last few days, these brave few have re-sparked that restless fire burning amongst black youth. I'm hopeful black Millennials will continue to nurture the power we hold against white supremacist patriarchal institutions.
The University of Missouri's front office recently reported significant diversity and inclusion initiatives to be implemented over the next 90 days. The most important action is the appointment of the school system's first Chief Diversity, Inclusion and Equity Officer.
No matter if there's a nationwide movement or not, I know black lives matter.
Now that black people are turning a mirror on America's racist behavior, the question still stands: Do you believe the same?