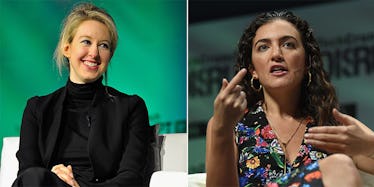 5 Millennial Girl Bosses Who Prove That You Too Can Reach Success
Getty Images
You are a 20-something female. You have this stellar business idea, and you believe it's what you want to do.
You are determined to work hard and do what it takes to succeed, but you don't have rich parents, a business degree or investors lining up behind you. You're not sure if you can make it.
Get your spirits up. Here are five Millennial females who started pretty much where you are, and turned their business ideas into multimillion dollar companies:
1. Elizabeth Holmes, 32
With her blonde hair and sweet smile, Elizabeth Holmes might look like a fresh-out-of-college young lady. But don't be fooled by her appearance. She is the richest self-made woman in the US, and the youngest self-made female billionaire in the world.
In 2003, Elizabeth started her own company called Theranos to produce innovative blood tests. Just like any standard blood test, Elizabeth's products allowed doctors to identify a number of diseases. However, they only required a fraction of the blood typically needed for similar check-ups.
Theranos' products also cost less, with the price for over 200 of their tests running under $10. The company became a huge success, bringing Elizabeth $4.5 billion.
2. Michelle Phan, 28
Having started her career as a beauty vlogger, Michelle Phan knew like no one else how tough it can be to choose the perfect cosmetic product in the vast variety the market has to offer. She also knew she was not alone in her struggle.
So, one day, Michelle went ahead and launched Ipsy, a service that allows its subscribers to try new selections of high-end samples and full-sized beauty products every month for a monthly subscription fee of $10. Michelle's Glam Bags got so popular, they brought her over 8 million clients. This turned this 28-year-old woman into the owner of a company worth $500 million.
3. Alexa Hirschfeld, 30
Are you stressed out about how many trees have to die just so that your beloved ones can receive pretty postcards? Well, you don't have to think about that anymore because Alexa Hirschfeld and her brother, James, have it covered.
In 2009, they founded Paperless Post in order to allow people to send wedding invitations over the Internet. The idea attracted $6.3 millon in funding, and brought the newly established company to profitability just a year after its launch.
Today, Paperless Post covers everything from everyday correspondence to once-in-a-lifetime events. It even collaborates with big name designers like Kate Spade, Oscar de la Renta, Jonathan Adler and John Derian.
So far, people have used Paperless Post to send over 85 million cards. We don't know exactly how many trees it has saved, but it sounds like a little forest.
4. Jennifer Hyman, 34 and Jennifer Fleiss, 32
Let's face it: Not too many of us can afford to splurge on $2,000 designer purses or $900 dresses. However, thanks to these two wonderful ladies, you can rock a special event in style without spending half of your monthly income on clothes. Meet Rent the Runway, a service that allows its users to rent dresses and accessories by over 100 designers.
The company has attracted over $15 million in funding, and was named "a Netflix model for haute couture" by The New York Times. So far, the service has about 5 million members.
No matter how crazy your idea might sound, chances are, there is someone out there craving exactly what you have to offer. You might not make millions by launching another rent-a-brand boutique, but you can hit it big doing the original things you have in mind.
Be bold. Stick to what's right for you. Work on it and own it.
Remember that every successful business started with an idea. So don't keep those million-dollar ideas in your head: Act on them. The only ones actually worth any money are the ones you bring to life.