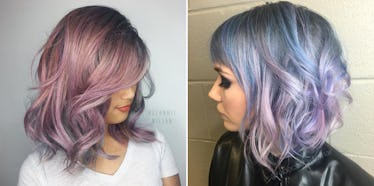 What To Know About The Metallic Hair Dye Everyone Is Flexing On Instagram
The beauty world is one giant paradox. Shiny skin is the ultimate no-no (unless you refer to is as "dewy"), but shiny hair is a compliment.
For a few women, shiny hair has taken on a whole new meaning, one that's particularly metal-inspired.
Metallic-dyed hair has taken over social media, taking average ladies and turning them into shimmery mermaids with purple-gray or blue-silver locks. The color comes from Kenra Color, the same brand responsible for Kim Kardashian's famous snail slime hair.
Curious about how to get rock star-worthy metallic hair of your own? You'll have to go a specialist, as not everyone has access to the dye. Allure recommends visiting the Kenra salon finder and then entering your zip code.
Feast your eyeballs on this color. A sci-fi movie heroine might wear it, and that's my highest compliment.
First launched in 2013, the Kenra Color Metallics contain actual reflective pigment rather than just scattering flecks throughout the hair.
You can try the shades in silver, violet and bronze.
The brand collaborated with "HairActivist" Guy Tang on the shades, which he often shows off on Instagram.
He explained in a press release, "I always love cool tones because they're coveted and seem to be impossible to achieve."
"It's now obtainable, and fantasies can become reality."
Fantasies, you say? I'd be down to dye my hair metallic, if only to achieve this much shine.
Metallic mermaid chic can't be wrong, right? Just add some shells to feel seriously out of this world.
If you're feeling daring, you can even mix metallics with rainbow hair color. Just try looking away from a dazzling 'do like this.