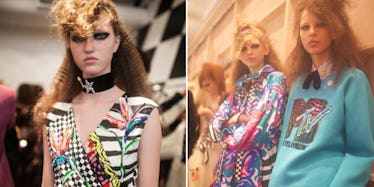 Marc Jacobs Says Crimped Hair Is In, And We Tried It So You Don't Have To
I'm not a "fashion" person.
I mean, I kind of am. I spent half my college career fetching coffee and steaming clothes for editors, who, unlike me, were bonafide fashion people. I even regularly attend New York Fashion Week, which I'm sure gives me some sort of street cred.
I'm not, however, someone who really gets fashion. I get it in the sense that I think it's interesting and artistic, but I'm not so immersed in it to think everything that comes out of the mind of an OG designer is law. Remember a time when we thought shoulder pads were cool? I do. Sorry, fashion people, but you don't always make great decisions.
Such is the case with Marc Jacobs. Marc, who I met once at an event a couple of years ago and is genuinely one of the nicest and most beautiful human beings on the planet, just showcased his eponymous Resort '17 collection, featuring windbreakers, acid wash everything and thick chokers. He also featured models with heavily crimped hair.
Look, I get that nostalgia is currently a thing in the fashion world and that the '80s are back with a vengeance, but crimped hair? Really? You can do better, MJ. We can do better.
The thing is, there's such a huge line between what works beauty-wise in fashion and what actually works in the real world. Sure, the models kind of got away with looking like they were Duran Duran groupies, but real people? I don't think so. At least the real people I know, none of whom are paid models.
In order to prove this point (and as an excuse to go full-on '80s on a rainy Wednesday), I decided to crimp several of my female colleagues' hair. You can't say we don't have fun at the Elite Daily office, everyone.
The first issue was finding a crimper. Most places don't sell this kind of gold anymore, which sucks. Luckily, my friends at TIGI Bed Head and Gold N' Hot were able to help me out and provided some crimping magic.
First, we tried to crimp Claudia's bangs.
Using the Bed Head Little Tease 1" iron, we crimped the front of Claudia's hair to resemble… something. I don't know. Maybe Cousin It.
On the plus side, the crimper worked really well. Each crimp was ultra-defined and only took a couple seconds to set.
On the flip side, no one actually looks good with crimped hair.
Next, we crimped Sheena's wavy locks.
Sheena has a lot of hair, so we were only able to do the front.
The BedHead iron worked really well to define each strand, but we could have achieved the same look if she just stuck her fingers in a socket. We also used the Gold N' Hot Ceramic crimper for side pieces, which weren't as defined but looked "softer," kind of like the Marc Jacobs models (right?).
Sheena was kind of feeling it -- or at least, the pieces that seemed to stick out at a right angle to her face.
I transformed into a Ruffle potato chip.
Despite both my co-workers telling me that short hair is "made to be crimped," I was terrified. My hair doesn't hold curls, so I didn't think it would hold crimped waves, either.
Boy, was I wrong.
Not only did my hair hold it long enough to take photos, it didn't come out with water. I'm not even kidding — I tried wetting my hair in the sink and it did nothing. I guess that's a good thing, except for the fact that I had to cancel my dinner after work because I looked like a "kooky aunt."
We'd make a pretty legit girl gang, though.
Like I said, I'm not a fashion person, but I do get beauty. And this — while kind of cool and very '80s — didn't exactly make me feel like the hottest version of myself. I didn't feel pretty. In a way, however, I did feel kind of cool.
Maybe you just have to be a Victoria's Secret model to make crimped hair look cool. Or maybe you just have to own it regardless.
Either way, I'm praying this washes out with shampoo.