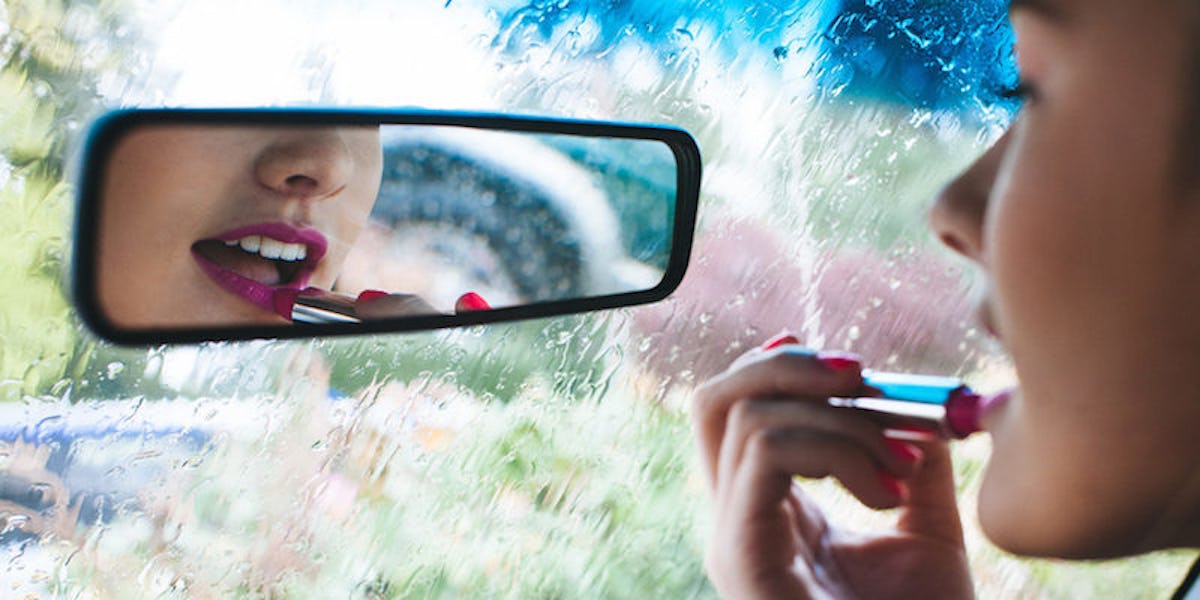 5 Reasons I Will Always Feel Conflicted By My Love Of Makeup
I am a walking contradiction when it comes to makeup.
Let me start off by saying, I love makeup.
I love the way it makes me look and feel.
I love a good smoky eye, I love contouring and I really love concealer.
I also love the artistic side of makeup, the way I can transform into an empowered artist.
I love the way my face becomes a clean canvas with unlimited possibilities.
I love the way I can depict emotion and mood by using different color palettes and application processes.
Yet, I somehow detest everything makeup stands for.
As I write this — wearing my cherry red, matte lipstick and five layers of mascara — I can't help but feel anger toward makeup.
Recently, during the season six premiere episode of "The Real Housewives Of Beverly Hills," castmate Yolanda Foster was heavily criticized by her fellow housewives for attending an event without makeup.
Currently, Foster is battling a three-year struggle with an aggressive form of Lyme disease.
Still, castmate Lisa Vanderpump couldn't fathom why Foster couldn't even put on "a little under eye concealer."
These statements about Foster made me realize just how much makeup impacts our day-to-day lives.
1. You can't just buy one item.
I have to hand it to makeup brand marketing teams.
They do an excellent job of making you feel like you need absolutely everything.
If you buy liquid foundation, for example, you also need the proper liquid foundation makeup brush.
Then, you need a setting powder because, even with the right brush, liquid foundation cannot sit alone.
Similarly, finding a setting spray is essential because you don't want the setting powder to look too "cakey."
Plus, it helps the makeup stay on your face for the whole day (even though you bought foundation that was supposedly 24-hour).
Of course, none of these products will work if you don't buy a good makeup primer.
All of a sudden, you are at the checkout counter with 10 items, when you really only wanted one.
2. It's an endless money pit.
When did makeup get so expensive?
Even if you somehow avoid the domino effect of buying makeup, you will still spend an absurd amount of money.
Today, it's not uncommon to buy two or three miniature items at Sephora and leave $100 poorer.
3. It transformed the way I see myself, and not for the better.
The more I wear makeup, the more I feel like I need it to look pretty.
Somewhere down the line, I got so used to seeing my face with makeup, I feel almost uncomfortable without it.
Makeup has become a security blanket. Without it, I feel plain and naked.
4. It is definitely not good for your skin.
I don't care what makeup brands claim. There is no way this stuff is good for your skin.
Don't try to tell me the dozens of undeterminable chemical ingredients on the back of every product are healthy.
If you do happen to find a product with all-natural ingredients, it is guaranteed to be triple the cost of your average product.
5. It tells women in order to look their best, they need to alter themselves.
In the supposedly progressive world we live in, why is there so little talk on the issues of makeup?
Why are women expected to wear makeup when men are not?
Why is it normal, and often even expected, for women to completely mask their faces?
We are constantly told we need makeup to look our best.
This needs to stop now.
Have fun with makeup.
Allow it to be an expression of your individuality and creativity, but don't get so caught up in it that you lose sight of how beautiful you are as a person.