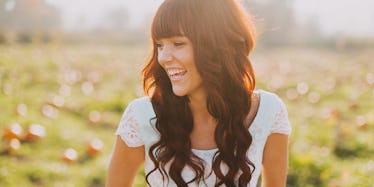 The Big Bang: 5 Reasons We're Still Not Over Our Favorite 90s Hairstyle
If you're a woman, your relationship with your bangs is similar to the one with your ex-boyfriend you can't let go of: You love 'em, hate 'em and no matter what, you always go back for more.
If I can pin you correctly, I'd say that at least once a year, you have the undeniable urge to go through a godforsaken "bang phase."
During this time period of confusion and indecision, you collect all of the desirable pictures of bangs you can find, and you try your hardest to persuade yourself it's a good idea to take a leap of faith with your hairstylist.
When the deed is done, you either take pride in your stylish decision, or you painfully regret the fact you need to get up 10 minutes earlier each morning to style the shag.
Regardless of how you feel after your new 'do, I'm here to tell the cold, hard truth: Your bangs are here to stay, and there's no denying we will never grow out of our beloved childhood hairstyle.
It's time to shame the bang-haters, and realize we will never be over the face-framing fringe.
1. They're cute as f*ck
Let's cut to the chase.
Bangs are f*cking adorable, and that's that.
They add a touch of innocence to your appearance, while undoubtedly adding a stylish flair to your hair.
To make it short and sweet, they add the perfect amount of "cute" to your appearance without overkilling the charm.
I mean, look at Taylor Swift.
She's America's poster woman for bangs, and she's a total freakin' babe.
Her bangs add just the right amount of sophistication to her darling appearance, and they'll do the same for you.
I promise.
2. They're versatile.
When you have bangs, your hairstyle options are endless.
You can pull off the innocent school girl look with a bit of curl, or the sleek and sexy look with a touch of your flatiron.
You'll be able to rejuvenate an up-do, and make the half-ass messy bun look like an intentional, stylish effort with a simple brush through the bangs.
Heck, you can even go bang-less if you really wanted to with a headband or a bobby pin.
That way, you can rock the fringe one day and pull them back the next.
3. They hide blemishes.
Bangs are a godsend when you have a blemish (or two) that is tainting your beautiful forehead with its presence because you can cover it up.
There have been multiple times when I've broken out, and nothing was there to save me but my beloved bangs.
No face wash will act as quick as a brushing and a blow dry to disguise your undesirable assets, so take advantage of the new vanishing trick.
I know, I know.
You've probably heard the opinions of those who think that bangs create acne, too.
Well, there's a simple solution to this one, folks. Keep your hair clean, and pin them back when you sweat.
4. They make your eyes pop.
As you know, ladies, contrast is an important asset to beauty, and the contrast between your bangs and your eyes is no exception.
Whether your eyes are bright blue, deep brown or anything in between, having bangs will make them look brighter and more noticeable.
Unfortunately, I can't give you a scientific explanation for this, but I can tell you from experience, the contrast is real.
The thicker the bang, the more noticeable your baby blues (or browns, hazels and greens) will seem.
So, forget about the heavy eye makeup. Cut your bangs, and let your hair do the work.
5. They're so 90s.
As Millennials, we all know the truth about hairstyles in the 90s.
Bangs were a "thing," and growing up, you and all of your girlfriends probably rocked the straight-across look on a daily basis.
I mean, if it isn't broken, don't fix it, right?
That being said, vintage is in, so therefore, bangs are in.
They're hip, they're fun and they're perfect for a good #TBT.
Like they say, what goes around comes around, and bangs are back, baby.