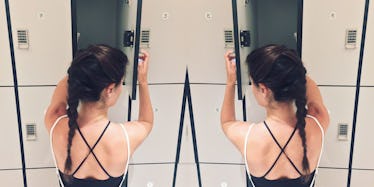 Life Hacks For The Locker Room: 18 Ways To Become More Gym Efficient
Navigating through the women's locker room is never an easy feat. No matter how exclusive or nice your gym is, dealing with the locker room can be a tricky situation -- as if the gym itself weren't intimidating enough.
There never seem to be enough outlets or lockers, people are changing on top of one another and the line for the shower is long enough to make you duck out of your fitness class a few minutes early just to get first dibs.
Whether it's in the morning or the evening, your anxiety can get pretty high at the gym — before you even begin working out. Luckily, Peloton Cycle studio in NYC allowed us to take an upfront and personal look at their luxurious facilities so we can show you the best ways to deal with locker room woes.
1. Use a small cosmetic case and only carry essential makeup products.
We're women, which just means one thing — we have a sh*t ton of makeup. However, our extensive collections are not easily transportable, which is why condensing it is so important to carry a small bag.
Break your collection down just to the vital products. Think CC cream, mascara, bronzer and an eyebrow pencil.
2. Invest in a functional yet cute backpack.
Carrying a regular gym bag can pull at your back and shoulders, which is why backpacks are the perfect way to carry your gear.
Many people used to be dissuaded from using a backpack because they weren't typically in style. But these days, backpacks can be the trendiest accessories.
3. Buy face washing sets that come with a travel kit.
Clinique Dramatically Different Moisturizing Gel, $27, Sephora; Clinique Dramatically Different Moisturizing Lotion, $14.50, Sephora 
Washing your face before and after workouts is a great way to prevent breakouts, but we all hate lugging around heavy large products.
Clinique has a great skincare line that comes with a mini travel version of it's larger products— the perfect kit to keep stored in your gym backpack.
4. Master the art of the french braid.
You know those tousled beach waves we're all trying to achieve? Throw your hair into a french braid, hit the gym and let it unwind — you'll have killer waves with minimal effort. Who said sweaty is always bad? The sweatier you get, the better the curls.
5. Always keep a spare travel size deodorant in your bag.
Clinique Deodorant, $23, Amazon; EO Organic Deodorant (2-pack), $14, Amazon 
You can't forget your deodorant if it never leaves your bag. Any drug store sells these for less than $2 in its travel section!
6. It's time to actually use that dry shampoo you've been hoarding.
Not Your Mother's Dry Shampoo, $3, Jet 
Dry shampoo sounds great in theory, but will you actually use it when you need it? The locker room is the perfect place to perfect this technique.
7. Oil sheets are a godsend, and a cooling roll-on is even better.
Origins No Puffery, $28, Ulta; Clean & Clear Oil Absorbing Sheets, $6, Amazon 
Give it up to Clean & Clear who are responsible for creating a movement for a product we didn't even know we needed. These oil absorbing sheets should have a place in every gym go-er's bag. De-shine and de-oil right after your workout!
Complete your fresh face with Origin's No Puffery Cooling Roll-On to decrease the appearance of the dreaded under eye bag.
8. Get a lock you won't have to learn the combination for.
Master Lock, $5, Amazon 
With every task we have to keep track of, who can remember three random digits? That's why getting a lock and key is a much better plan than a combination lock.
There is no remembering or forgetting — just attach your key to your water bottle while you work out.
9. If your memory sucks, write it down.
In a room full of lockers, it's often hard to figure out exactly which is yours. Luckily, many studios provide whiteboards so that you can quickly write down your locker number and not waste time trying to open multiple lockers before finding your own.
10. Always keep an extra pair of socks in your bag.
Gyms are notorious for charging upwards of $13 for one pair of socks because they know you need them. Beat the system and keep a spare pair in your bag at all times.
11. Trade in your chunky jewelry for lightweight pieces.
If you can barely feel your jewelry when you're wearing it, there's really no reason to take it off when you're exercising. So maybe instead of rocking a statement necklace that day, you put on a dainty chain instead.
12. Grab yourself a pair of slip on shoes.
If you're taking a class that doesn't require footwear, you should show up wearing slip-on shoes. You'll save yourself a few minutes by not battling laces and straps.
13. Don't skip out on the complimentary blow dryer.
If you're rushing somewhere after the gym, you may want to just brush through the sweat while using the blow dryer. Sure, it may sound gross, but once you try it, you'll see how much its worth it.
14. Get some mineral makeup.
Bare Minerals Mineral Foundation, $29, Sephora 
Mineral makeup doesn't clog your pores and actually works better when you sweat. So if you feel the need to rock some makeup during your workout, this is your best bet.
15. Scoop up a rollerball fragrance.
Hanae Mori Rollerball, $25, Macy's; Tory Burch Rollerball, $29, Sephora 
Sephora has a ridiculously extensive collection of rollerball perfumes. These small cylinder products are extremely small and lightweight, which make them the perfect item to carry in your gym bag.
16. Throw on some waterproof mascara.
Lancome Hypnose Mascara, $28, Sephora 
They should call it sweat-proof mascara because that stuff does not move, even during the most rigorous of workouts.
17. Pack loose-fitting clothing.
There is nothing worse than attempting to put jeans on after a workout. This especially comes in handy if (and when) you don't have time to shower. And let's be honest, who has time to shower before work? Gross? Maybe, but it's a harsh reality.
18. Choose a locker closest to the exit/entrance.
One of the major reasons we get held up in the locker room is because we choose a locker that is located in the middle of the mayhem. By choosing a locker on the outside of the bunch, it allows quick and easy access to your belongings.
For more of her thoughts, humor and ridiculous opinions follow Ashley Fern on Instagram and Twitter.