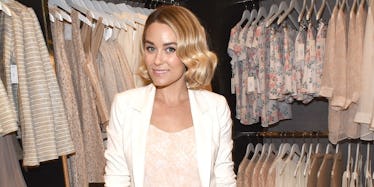 Back To The Beginning: 5 Reasons Lauren Conrad Was Your Original Style Icon
Getty Images
Famed style icon Lauren Conrad once said, "Boys are like purses. You're always gonna have that one boy that you're always comfortable with and you know you'll always kind of like."
Not only do I completely agree, but I also idolize any woman who uses fashion accessories as analogies.
We've watched Lauren Conrad pursue a fashion career, and we've also watched her go through some pretty interesting fashion phases. We've watched her organize high school charity fashion shows, sit front row at fashion week, followed her through her stint at FIDM and even when worked at fashion-related jobs.
From her brightly colored halter tops to her low-cut spaghetti strap blouses, LC was everyone's favorite style icon (and TV personality) from the first time Hilary Duff's "Come Clean" bellowed from our TVs.
Here are five reasons why Lauren Conrad was our first fashion role model:
1. Color And Print
You have to be bold to wear red, and you have to be even bolder to wear red to your senior prom. Props to LC for doing it right and wearing a short red dress with ruffles on the bottom.
As we watched the episodes, it seemed like she never said no to a color or a print. From polka dots, stripes to floral prints (lots of floral prints), LC really showed us that you have to be bold to stand out, and stand out she did.
2. Accessories
Headbands, sunglasses, jewelry, hats, belts -- you name it, LC wore it. Whether it was during spring break in Cabo (one of my favorite episodes) or working in the fashion closet at Teen Vogue, LC always accessorized to the maximum. Oh, and she even matched her red prom dress with a flower in her hair.
3. Plain Tees
No one could or will ever be able to rock a plain t-shirt like LC. She really showed us young girls how to be versatile with your basics. What appeared ordinary to us mere fashion mortals, Lauren made extraordinary with her accessories, makeup and the clothing she paired them with.
Look back to season one of "Laguna Beach" if you think I'm kidding. The girl really loved her solid-colored tanks.
4. Hair
From hair braids, beachy waves to stylized ponytails, no outfit was ever complete without LC rocking a perfect hairdo. Lauren always kept her gorgeous blonde tresses perfectly styled, no matter what she wore.
While there were some rough looks in the beginning of her reality TV show career, it's important to focus on her transformation. Not to mention, she was early on the ombré train a few years ago and really set the bar high for us imitators.
5. Incorporating Fashion Into All Areas Of Her Life
Yes, "boys are like purses" but LC accomplished what we all wanted to in high school but failed to do: She threw a themed party. Yes, we all stalked our older collegiate Facebook friends when they posted pictures of their frat parties themed "golf bros and yoga hoes" and tried to recreate them in the basement of our friend's house.
But LC threw fashion-themed party. Her black and white party was featured in season one episode one. I mean, how f*cking classy can you be, LC? Although, Kristin ended up being the real trendsetter because she was the only one who wore white to the event.
But, let's all take a moment of silence and shed a mascara-filled tear over the fashion knowledge we've learned thanks to LC. Lauren Conrad, thank you for showing us that a tank top can be fashionable if accessorized appropriately, and for showing us the art of matching your mood to your outfit.
Thank you for believing that fashion is art and for staying on reality TV long enough to show us your ways. You've made watching all those boring shopping scenes worthwhile.