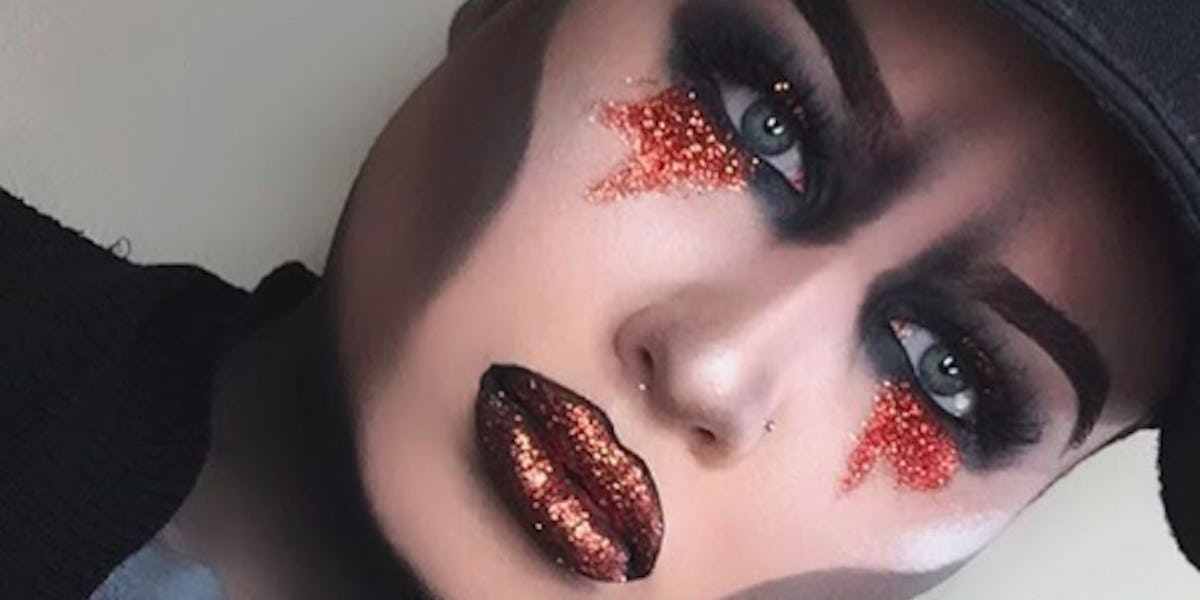 This Kylie Jenner-Inspired Zombie Makeup Is Glam And Creepy At The Same Time
For Kylie Jenner, every day of the year is Halloween.
If she commands her wig guy lay down blue hair, it gets done. Three-inch acrylic nails? Not a problem.
But come October 31, all the regular people will be looking for their chance to copy Kylie's over-the-top style.
A teenage Instagram makeup artist named Oliver Cable has done just that, morphing the baby Jenner's glamorous look into a zombie face that says, "I'm going to a drag club after this haunted house" rather than "I got this at Party City."
After all, anyone can look frightening for a night. The real trick is to appear fabulous while doing it.
The London-based artist used Kylie's Lip Kit in Dead of Knight and Eunique Beauty glitter for his mouth, amping up his pout into the overinflated lips the star is best known for.
After creating a skeletal contour and hooded eyes, Oliver returned to the center of the face. He then crafted glitter tear marks (eye-catching, sure, but they'll also still look good after he's drunkenly smeared the rest of the makeup all over his face at a party).
Remind you of anything?
That's right. Oliver might weep glitter, but it comes down in almost exactly the same way as the packaging on Kylie Cosmetics' Kyshadow Bronze Palette.
In his Instagram caption, Oliver informs his 300,000 followers the look is "I'm dead, but still trying to be glam AF." My only request is to see that written on an actual tombstone.
There's no word yet on what Kylie Jenner will go as for Halloween, but I humbly suggest this glittery style.
She's already got the lips, black hat and (undoubtedly) the makeup lying around the house.
Then again, it's a pretty messed up Halloween if you're attending in costume as a parody of your undead self. It certainly would be a costume to remember.