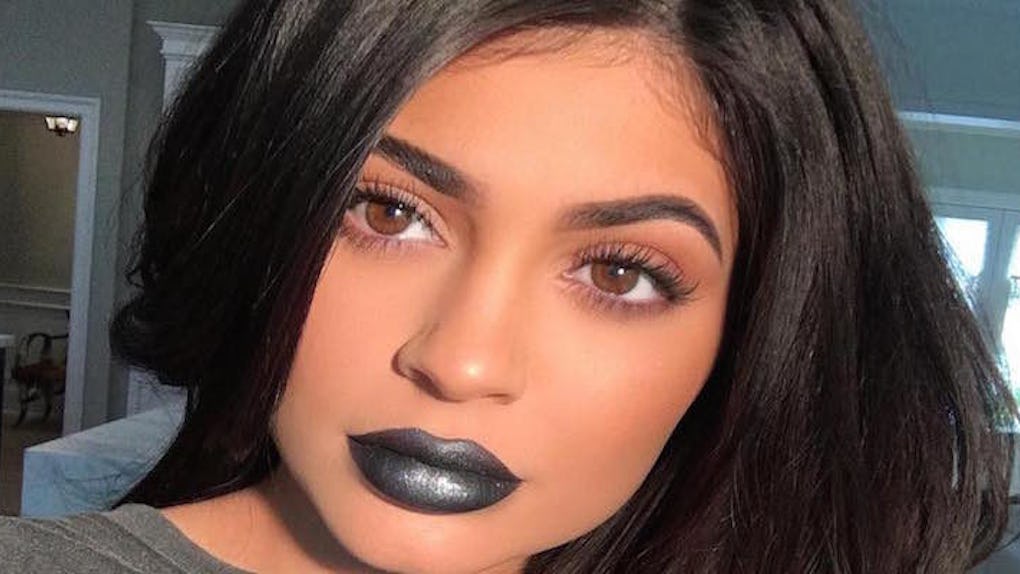 Instagram
Kylie Jenner Is All About Rocking The Grey Lip Trend This Fall
It's no secret metallics are having a serious moment.
Remember when we showed you those insane holographic nails not too long ago?
Well, if you thought those futuristic fingernails were lit AF, I have some good news for you.
It turns out decking your digits in sparkly polish isn't the only way to leaden up your look this fall.
Yep, if you're looking to make a serious style statement this season, you'll be glad to know a new beauty trend just popped up on our radar... or should we say, greydar.
That's right. Grey lips are the latest trend taking the beauty scene by storm! Lots of ladies, including celebrities like Kylie Jenner, are ditching the typical lipstick colors for all sorts of stunning, silvery shades.
From matte charcoals and sheer steels to metallic gun metals and shiny silvers, there's a concrete lip color out there that's sure to compliment everyone's personal style.
Check out the pictures below to see all the ways women are rocking this chic lipstick trend.
Grey lips are officially the new granny hair.
Lately, tons of women are lining their lips with a myriad of grey and metallic shades.
Celebrities like Kylie Jenner seem to be big fans of this fall makeup trend.
Plus we've seen concrete lip colors on Insta-famous beauty bloggers like Nicol Concilio...
...and silvery mauve shades on makeup mavens like Jelena Peric.
You can opt for a pretty, pale palette...
Add some lead to your lips...
...or don a deep charcoal color that's chic AF.
Whether you go with a captivating chrome kisser...
Deck your mouth out in a matte, moonlit shade...
Or go all out and rock some glam grombé lips...
...there's no wrong way to get in on this heavy-metal makeup trend.
If you're looking for the perfect way to go grey, you can try out Smashbox's Matte Liquid Lipstick in Chill Zone.
Plus, Lipland Cosmetics makes a mercury shade called "Retrograde" that will make your lips look out of this world.
Or you can opt for a lit lip color that's simply to die for, like this Silver Bullet lip composite from Who Is She Cosmetics.