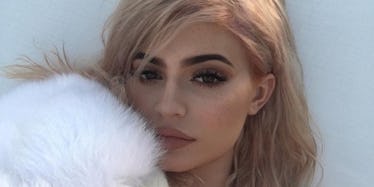 Kylie Jenner Says She Got Lip Injections Because Nobody Wanted To Kiss Her
Instagram
It's impossible to be a reality star and a normal teenager at the same time.
That's the hard lesson learned by Kylie Jenner, 19, the baby heir to the Kardashian-Jenner entertainment monopoly.
In the Oct/Nov 2016 issue of Complex, Jenner breaks down her beauty look and what it's like when millions of teenage girls (and grown-ass adult women) know your name.
Posing nearly nude while surrounded by custom Takashi Murakami art, Jenner gets vulnerable.
Interestingly, Jenner drops a tidbit that shows her human side: Her trademark lip injections were born of very real self-consciousness she's carried her entire life.
She explains the trouble started in middle school, the years that fuel all of our nightmares.
Kylie says,
This guy I kissed was like, 'Your lips are really small but you're a really good kisser. I didn't think you were gonna be good at kissing'... It was so rude. From then on, I just felt like I saw guys staring at my lips. I felt like no one wanted to kiss me.
Here, interviewer Karizza Sanchez notes Kylie seems to fold in on herself while recounting the memory. She seems to be accessing a time that makes her uncomfortable to even talk about.
Middle school is a killer for even the wealthiest, most genetically blessed children, apparently.
By age 17, Kylie had already invested in an entirely new pair of smackers. They were the lip injections heard round the world, with 20-somethings everywhere rushing to replicate Kylie's look.
In the eye of the storm, Kylie said she continued to lie about the injections because she was so young. Being a good role model was her main priority.
She says,
I didn't want to be a bad influence. I didn't want people to think you had to get your lips done to feel good about yourself. But they thought it was crazier that I was lying about it because it was so obvious. I wish I had just been honest and upfront.
With age (and injections) comes wisdom, right?
Still, Kylie earnestly reasserts she's no "fake, plastic person." She's a teenager having fun with a persona. Instead of Wonder Woman, she's Snapchat Girl.
And the real Kylie? Well, she's around, just not when the cameras roll.
Kylie explains,
I don't sit around and stare at my cars and Snapchat them. That's what people think I do, but there's a big part of my life that I don't like to show. I'm 'Kylie Jenner' to the world, but I'm just 'Kylie' to my friends and family.
Celebrities: They're just like us. They have insecurities like us. I, for one, would like to see more of this Kylie, the vulnerable one.
She's even more impressive than any alter ego.
Citations: Kylie Jenner In Plain Sight (Complex)