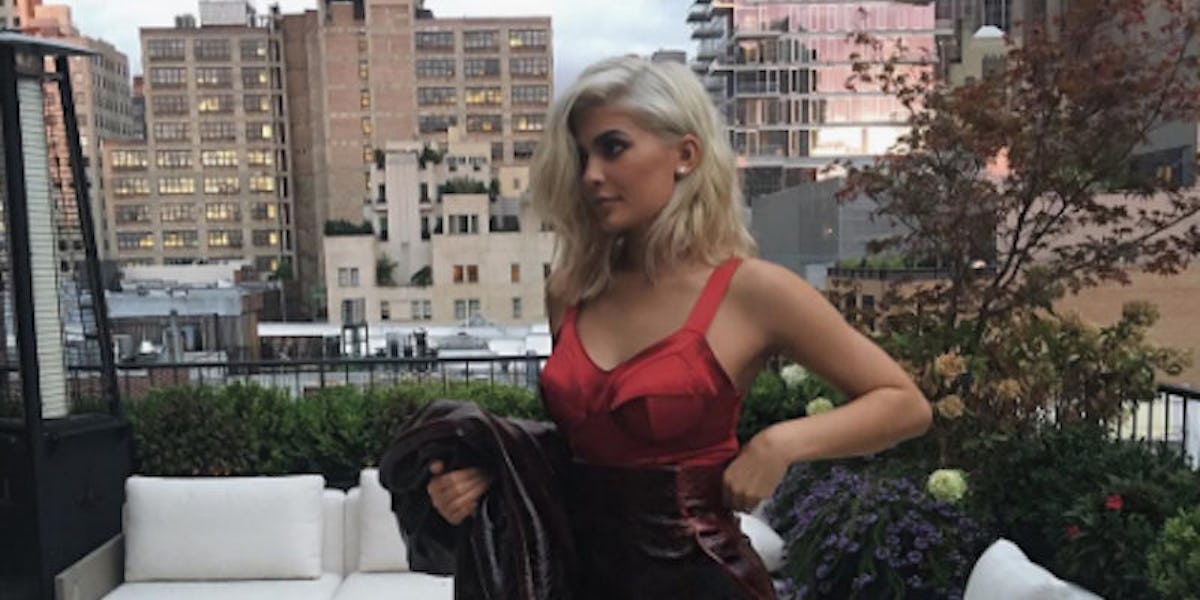 Kylie Jenner Is Trying To Be Marilyn Monroe Now, Because Of Course She Is
It's a tough world out there for a teenager born into a family of fame-hungry women. What's a girl to do?
If you're Kylie Jenner, recreate yourself. Though the young influencer was born into a wealthy, semi-famous family, halfway through her teen years, Kylie reinvented her image.
The thin-lipped, shy youngest child of Kris Jenner was gone, replaced by a boob-baring, Tyga-dating celebrity. She sprang into the spotlight, lip injections and all.
In fact, her story's not too different from a similar self-made woman: Marilyn Monroe.
The born-brunette became a platinum blonde, got a nose job and got noticed. If Instagram had been around in the days of old Hollywood, you'd better believe the publicity maven would've used it.
This New York Fashion Week, Kylie's debuting a look that makes the similarities between the two extra clear. After teasing bleached, wet hair on Snapchat, the teen star arrived at brother-in-law Kanye West's Madison Square Garden show September 6 with blonde hair.
Undoubtedly, the social media preview was meant to prove that Kylie's dye job was real, not just the luxe wigs she usually wears.
After all, if a Kardashian dyes her hair and no one sees it, does it even count?
When Kylie finally emerged from her cocoon of money and hairstylists, she wore the fresh blonde with a Mur Mur red satin bullet bodysuit and leather skirt.
I'm willing to bet the retro bra style, which makes breasts look more like excited dog noses than mammary glands, was a direct homage to Monroe's midcentury glamour.
In the half-century since her death, Monroe's become something of a pop culture caricature. Closer to her death, she might've been remembered for acting savvy and a punctilious nature.
Today's teenagers, however, largely know her as a glamorous freeze frame in their dorm room poster of "The Seven Year Itch" — also known as the movie with the white dress and the subway grate.
Kylie is probably struck by Monroe's sex symbol nature, not who she was behind closed silk drapes.
Kylie's not the only Kardashian-Jenner to have drawn Marilyn comparisons, either, though she's certainly the youngest to do so.
Way back in 2013, Kanye West threw a royal fit after model Kate Upton was chosen to pose as Marilyn Monroe on the cover of Vanity Fair.
He told a radio interviewer at the time,
Kate Upton ain't Marilyn Monroe. Kim is Marilyn Monroe. You know that. She was controversial; she's controversial.
Sure, Kim is controversial. But does a famously large butt and business savvy to match rival the great movie icon?
One thing's for certain: Kim probably doesn't take kindly to Kylie stealing her Monroe thunder.
Earlier today, Kylie was spotted around New York wearing an off-white jumpsuit and oversize illusion brocade coat. You know who loved an all-white look? Monroe.
Don't expect this to be the last tribute you'll see before the week is over.
PSA, Kylie: The nude dress Monroe wore to sing happy birthday to John F. Kennedy is up for sale right now. A mere $3 million, and it's all yours.
You, too, can get sewn into it.