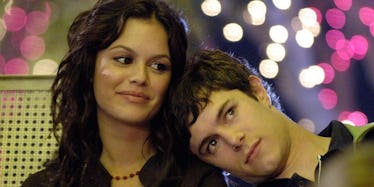 8 Guys Confess The Moment They Knew Their Girlfriend Was 'The One'
Warner Bros. Television
Some swear they believe in love at first sight (or swipe), but finding the person you want to spend the rest of your life with can take a lot of time.
It might take people around you to make you realize you've found "the one." Even worse, you might not realize you've found that person until it's too late. Of course, there are those times when everything comes together perfectly and you just know that the person you're spending time with now is the person you're destined to be with forever.
Check out the moment when each of these eight guys realized their girlfriend was "the one."
She said she loved sports.
"May sound dumb, but on like our fifth date or something she said that she was really into sports. I rolled my eyes, thinking she was lying, but then we talked football for a good 20 minutes and she knew what she was talking about. I knew she was someone I had to keep around."
– Luke K., 32
My friends said she could hang.
"It takes a certain kind of girl to get along with your guy friends, and my girl did. Every time I would hang out with them, they would ask me to bring her. With girls I'd dated in the past, they'd asked me to leave her home."
– Juan C., 25
I didn't get sick of seeing her.
"We moved into together about two years after we started dating. I was kind of scared I'd get sick of her, seeing her 24/7. A couple of months into our new living situation, I realized that I was now even more excited to come home and see her. That's when I knew it would be pretty cool to spend the rest of my life with her."
– Steven B., 31
I lost my job, but not my girl.
"I got laid off and couldn't find a new job for three months. It was a rough time. I was always stressed and always worried I'd have to move back home to my parents' house. Most girls would have looked at my situation and said, 'No thanks.' My girlfriend didn't. She helped me with my resume and she helped me apply for jobs."
– Cal T., 23
We survived long distance.
"I moved to North Carolina and she stayed in Boston. It was rough on us, but after a year, we made it through. I knew if we could get through that ugly situation, we'd make it through life pretty damn good."
– Jack T., 28
I deleted all my dating apps.
I deleted all my dating apps.
"If you ever want to know if you met 'the one,' just see how many dating apps you have left on your phone. It's true. A couple months into dating my now-girlfriend, I realized I had deleted all my dating apps and didn't care about going back on them at all."
– Sean P., 25
My parents loved her.
"My parents sat me down one night and told me that I can't mess this up. That I'd found the best girl out there for me. They knocked some sense into me. But the coolest part was, they really loved her a lot."
– Michael K., 24
She left me.
"I kind of took advantage of our relationship and how much I needed her in my life. I realized this when she broke up with me. Two days without talking to her felt impossible. I knew then that I had to figure out a way to get her back in my life and this time, for good."
– Matt O., 28