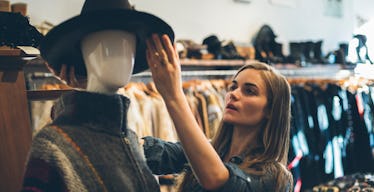 This Kegel Exercise Machine Rewards Hard Work With Some Good Vibrations (Video)
Stocksy
kGoal is a new device that rewards you for exercising your Kegel muscles with a nice vibration in your vagina.
Who said exercising sucks?
It's important that women strengthen their Kegel muscles. These muscles assist a woman's sex life, are beneficial for pregnancy, support abdominal muscles, provide stability for the spine and pelvic regions and increase bladder control.
Lots of women, however, don't exercise these important muscles enough, and 30 percent of women who do exercise them are doing the exercises incorrectly.
Jon Thomas, vice president of manufacturing for Minna, the company that designed kGoal, said,
These are generally involuntary, subconsciously controlled muscles. So when someone tells you to squeeze your pelvic floor muscles or crunch them it's not intuitively obvious at first how to do that. Our product tells you how you're doing.
kGoal tracks your exercise technique with a silicone pillow that's inserted into your vagina. From there, the kGoal app on your phone measures the force you exert when you squeeze the pillow with your muscles. This information is communicated to your phone or to the device.
If you do the exercise right, you get a vibration in your vagina as a reward.
Thomas said,
It's a short-term reward for exercises with long-term benefits. We're making something that's traditionally very boring fun.
Do the exercise right over and over again, whenever you're feeling frisky -- and you can finally dump your inadequate boyfriend. It doesn't get more "fun" than that.
Photo Courtesy: kGoal