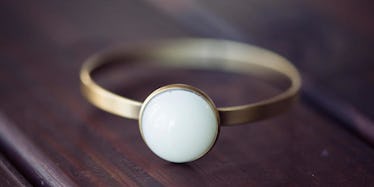 There's Now Jewelry Made From Breast Milk And We've Officially Seen It All
We've all seen our fair share of seriously weird jewelry.
At one point, I thought the whole trend of sealing your loved one's ashes in a locket was a bit, well, out there.
However, there's a new kind of jewelry being sold on the internet that might be even more strange than wearing the remains of dear old Aunt Betty around your neck.
Apparently, people are now wearing their breast milk in the form of jewelry.
That's right. A New Jersey-based entrepreneur named Ann Marie Sharoupim recently started a company called Mamma's Liquid Love that will actually turn your breast milk into a variety of fashionable accessories.
Sharoupim's jewelry making endeavors all started when she created a pendant for her breast milk donor as a way to show her thanks and appreciation.
According to Sharoupim's website,
Her gratitude and joy after receiving her pendant from me, inspired me to create Mamma's Liquid Love.
Each piece of jewelry is hand-crafted with a pearly white stone that's actually breast milk preserved in resin.
If you're looking for an itty-titty way to remember the good old days of nursing your newborn, you can send Sharoupim a few ounces of your breast milk and she'll turn it into one of the breast damn accessories you've ever seen.
Check out the pictures below to see more of these mommy-approved jewelry.
Thanks to Mama' Liquid Love, jewelry filled with breast milk is now a real thing...
...and I'm pretty sure we've officially seen it all now.
The company also has some pretty sweet pendants because nothing says motherhood like wearing your rancid breast milk around your neck.
If milky white jewelry doesn't really fit your personal style, don't worry. You can even get a piece of breast milk jewelry that's dyed to the color of your choosing.
Yep, if you ask me, these eye-catching keepsakes might just be the breast, I mean best, way to preserve your memories as a new mom.
Citations: We Dare You Not To Buy Jewelry Made From Breast Milk (Buzzfeed)