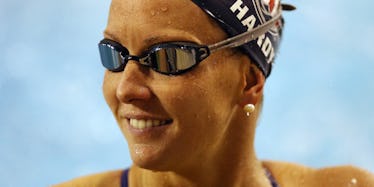 Jessica Hardy's 6 Easy Tips For Getting In Shape Like An Olympian
Getty Images
In 2008, swimmer Jessica Hardy was ready for her shot at Olympic gold at the summer games in Beijing. She qualified for USA Swimming's Olympic team and was asked to take a routine drug test.
What she thought would be a regular, mundane day of training turned out to be a nightmare when Hardy found out she'd tested positive for clenbuterol, a performance-enhancing stimulant banned by the United States Anti-Doping Agency.
Just like that, Hardy was suspended and forced to withdraw from the Olympics. She saw her dreams shattered over a simple post-gym recovery aid she thought was natural and safe to use.
After showcasing her innocence at two arbitration panels and receiving a suspension reduced from two years to one, Hardy bounced back in 2009 seeking redemption. Through an all-natural diet and determination, Hardy not only qualified for the 2012 London Games, but also dominated them, winning bronze and gold medals.
"When you least expect it, sometimes life can hit you with a crushing blow," Hardy writes in her autobiography "Swimming Toward The Gold Lining." "It's human to have the wind knocked out of you, but you have to keep in mind that you are not alone."
If anyone understands how to get her mind and body in shape, it's Hardy. I recently sat down with the Olympian for her best advice on getting healthy and fit. Spoiler alert: The tips are super simple.
1. Stop following fitness Instagram accounts.
Hardy says she's guilty of falling into the same trap so many social media savvy 20-somethings do: trolling through Instagram for #fitspiration. In Hardy's case, she's looking at fellow Olympic swimmers' posts to see what they're getting up to in the pool.
"A lot of social media these days is interesting because you can see what your competitors around the world are doing and it's distracting," she explains. "It can get in your head seeing that on your phone all day."
She suggests backing away from the iPhone and staying focused in the gym. Create a Spotify playlist filled with fast-paced songs to channel your inner girl power. There's plenty of time for selfies afterward.
2. Try as many exercise classes as possible.
Though it's fun now, pledging your allegiance to SoulCycle will get boring really quickly. You can also get used to a certain workout over time and hit a plateau, so it's best to "shock" your body by targeting different areas with new, exciting exercises.
3. Drink lots of chocolate milk.
After Hardy's hellish experience in 2008, she only consumes healthy, natural products. Her newest post-gym recovery go-to has been chocolate milk.
Because the drink is high in healthy protein, it can help bones recover after a grueling gym session. Keenan Robinson, head athletic trainer for the 2016 US Olympic Swimming Team, says the high amount of vitamin D found in the chocolatey drink can boost both the immune system and bone density.
It's also delicious, so it's a win for me.
4. Stick to lean proteins.
The best part of training for Hardy has been perfecting her cooking skills. To stay fit and energized, she whips up meals with ingredients that are high in protein, like chicken and salmon. Chicken packs a whopping 27 grams of protein per serving, while salmon has tons of omega-3 fatty acids to boost overall health.
Experiment in the kitchen to see what you can make using protein-packed foods.
5. Munch on healthy snacks throughout the day.
"Swimming and the work we do alongside it is so much aerobic work that I can never get enough food," she says. "But, I make sure that when I do eat it's not fast food. I make sure I have healthy snacks and meals planned."
Hardy packs lots of fruits and veggies with her at all times. Mimic her routine by sticking snacks like Greek yogurt, carrots and hummus or almonds in your purse to eat throughout the day.
Similarly, bananas are a great after the gym snack, as the high potassium boosts heart health and blood pressure. It's perfect for Hardy, who needs to keep her heart rate up while swimming laps in the pool.
6. Focus on the now.
When I ask Hardy how it felt to win a gold medal at the Olympics after what seemed like an eternity of struggle, she's surprisingly mellow about the whole thing.
"It doesn't change your life. It's really fun and you feel really proud of yourself, but you're still the same person, I'm still the same Jessica and that's exciting too," she says.
When your exercise and healthy eating routine gets tough, Hardy says to stop focusing on the end goal and take it day by day. Don't focus on meal prep ideas and gym schedules, just enjoy the process. You'll never achieve your goals if you're caught up in hitting a certain number on the scale.
Hardy's next step is mentally and physically preparing herself for 2016 Olympic team trials in Omaha on July 26. This time, she's made sure there will be no surprises.