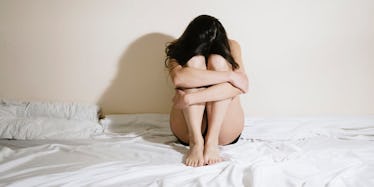 Jennifer Siebel's New Documentary 'The Mask You Live in" Explains Why Men Don't Cry (Video)
Ever wonder why men are such emotionless douchebags? Jennifer Siebel Newsom has it all figured out for us. According to Jezebel, the director has launched a Kickstarter project to fund her documentary, 'The Mask You Live In,' about the pressures of the male gender role.
The preview for the film focuses on what Siebel refers to as the "boy crisis," or specific pressures on men that stem from gender stereotypes: "be kind of a dick," "don't be a p*ssy," "grow some balls." Just as much as women are trapped by the unwritten laws of feminism, men are trapped by masculinity. She refers the portrayal of masculinity as depressed, disconnected and lonely.
Why is it such a big deal for men to cry? Why do guys feel like they can't talk to each other about their feelings? In the intriguing preview for the documentary, a high school teacher asks his male students to anonymously write down what they hide on a sheet of paper. The most common answers were pain and anger.
'The Mask You Live In' raises an issue that has been taboo in our society for years. It seems that because men have been trapped to hold their emotions inside, the "boy crisis" has not been brought to society's attention, while societal pressure on women has always been on the forefront.
Via: Jezebel and Kickstarter