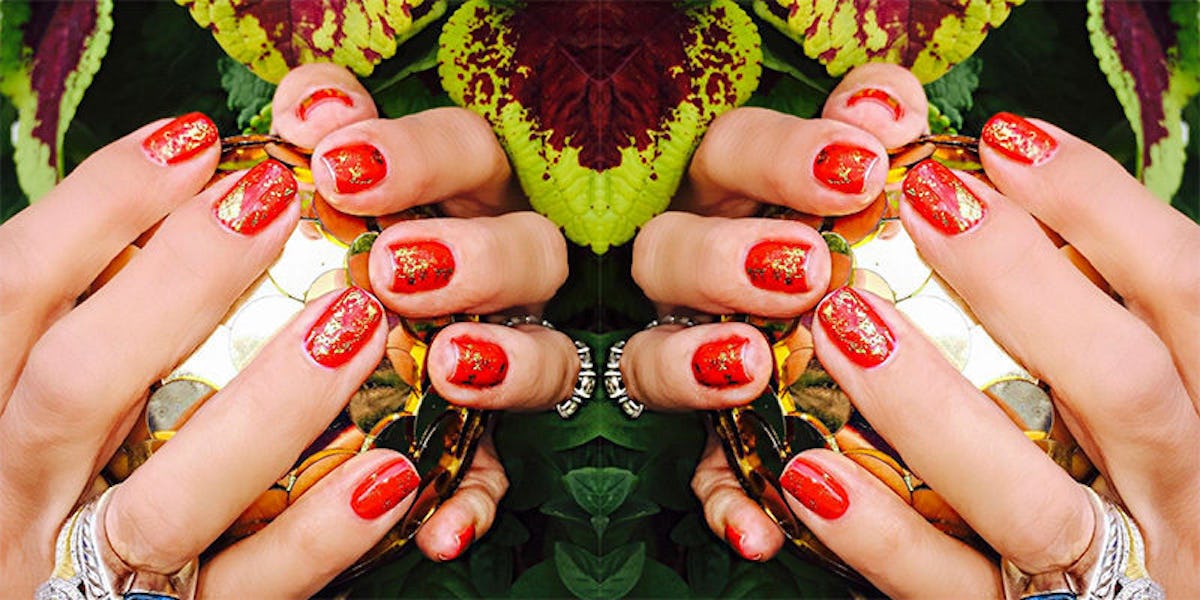 Instagram's New Favorite Manicure Looks A Lot Like A Shiny Christmas Ornament
Some people are so festive they practically beam holiday cheer. Most of us, however, need to work at it.
Instead of squeezing into a thrift store ugly Christmas sweater, try on something a bit more stylish. A newly popular manicure trend involves applying foil to your nails.
The resulting manicure glimmers and shines just like a golden Christmas ball, but without the part where you have to haul a tree up four floors and drop an entire paycheck on decor.
Foil nails are festive without looking garish, and we're falling deeply in love. Excuse us while we call our nail salons.
These are the incredible metallic foil nails.
They're available in a broad range of bold shades.
An actual piece of foil is applied over adhesive, then ripped away.
Like Jackson Pollock paintings, no two manicures are the same.
The uniqueness is what makes them so much fun.
We're particularly into the gold foil.
But an artsy take on foils is fun, too.
It's seriously reminiscent of kindergarten art projects.
The kind completed by chic, French art babies.
Why choose just one statement nail?
Let them all have the spotlight for once.
This manicure is mesmerizing.
The days of matte polish are long gone, finally.
Not all trends work on both long and short nails, but foils do.
Itching to get into the holiday spirit?
Try these yourself at a nearby nail salon.
Consider this the new year's answer to glitter.
We're moving on.