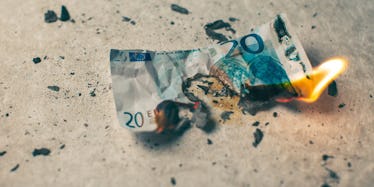 In Landmark Decision, The Country Of Qatar Decides Leggings Are Not Pants
Stocksy
Do leggings count as pants? We women have agonized over this very question, with few authorities on the issue able to give us a satisfactory ruling one way or another.
But, now, Qatar (yes, the country) has weighed in on the sartorial conundrum, and its female residents and tourists may not be too happy with the answer.
As part of a new "Reflect Your Respect" campaign encouraging tourists to don culturally-sensitive clothing for the duration of their visit, Qatari officials definitely decided that leggings are not pants. Seriously, it's written in all caps and bolded on a pamphlet they're distributing around the country.
Appreciate the dress code campaign by @reflect_respect as being done respectfully and tastefully and for both genders pic.twitter.com/4GeHYW52hs — Amad (@amadshk) May 25, 2014
The campaign also details:
It is expected that you wear decent clothes and women should avoid wearing any garments that are too tight, too short or translucent such as mini-skirts or sleeveless dresses. Both men and women should also avoid walking around in their swimming suits away from the beaches or swimming pools.
The efforts to tone down what tourists have been wearing have been applauded so far in that they seek to educate individuals, and address both genders in their restrictions.