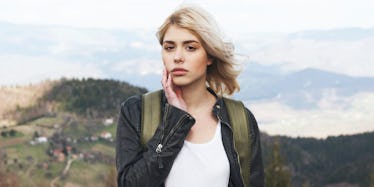 In Honor Of The Bling Ring: Five Notorious Shoplifting Scandals
Sofia Coppola's highly anticipated Bling Ring film, which was inspired by the burglaries of celebrity homes in Hollywood pulled off by several high school teenagers, has been getting a lot of buzz lately. For one who isn't familiar with the original "Bling Ring" story, it would be easy to assume that the plot is completely fictional and fabricated.
That's how ridiculous it is. However, the story is completely true and it's incredible (not in a good way) that mere teenagers were able to rob multiple celebrities homes for months without getting caught. Their motive? Simply to dress as well as their favorite celebrities. Talk about being addicted to pop culture.
The film has spurred a lot of talk on the Internet and research into other instances of unexpected robberies that became infamous. Let's take a look at a few of those cases. Here are five of the most notorious shoplifting scandals in recent history:
Peaches Geldof
In 2011, the British socialite was accused of pocketing about $100 of cosmetics from the health & beauty store Boots. After she handed the goods back to security, though, the store decided not to press charges....even though Peaches had been accused of shoplifitng on at least three other occasions before. Among some of the items stolen were two rimmel mascaras and a bottle of L'Oreal foundation. Um, okay.
Winona Ryder
In 2001, Winona was arrested at a Beverly Hills Saks for attempting to steal $5,560 worth of goods from the store. In 2002, she was convicted and ordered to both reimburse the store and to do no less than 480 hours of community service. Among the stolen items was a $1,600 Gucci dress, a $350 Eric Javitz hat, a $760 Marc Jacobs blouse, a $550 Dolce & Gabbana bag and $80 Donna Karan socks. What a mix.
Lindsay Lohan
In 2011, Lindsay was accused of stealing a Kamofie necklace (valued at roughly $2,000) that she claimed was actually on loan from the jewelry store. Still, she pleaded no contest and was sentenced to community service.
Caroline Giuliani
In 2010, the daughter of former NYC mayor Rudy Giuliani was caught pocketing $150 of cosmetics in an uptown Sephora.
Britney Spears
In 2008, Britney walked out of Los Angeles high end boutique Fred Segal wearing a $200 black long-sleeve top that she put on in the dressing room and then "forgot" to pay for. After Britney returned the top, though, the store didn't press charges, despite Britney getting in trouble before for allegedly shoplifting wigs and lighters elsewhere.
Photo Credit: Getty Images