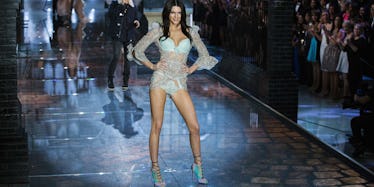 How The Kardashians Spend Hours In High Heels Without Wanting To Die
REUTERS/Lucas Jackson
I'm a sneakers kind of gal. I don't wear anything higher than a 3-inch heel most days, and it takes some serious motivation to squeeze into a 6-inch pair on nights out. Can't blame me if I feel more comfortable being close to the ground, right?
I've always been envious of girls who wear heels on a daily basis, though, because I have a 2-hour time limit. If my feet aren't free by then, I turn into a monster. Or, I'm forced to buy a pair of budget flip-flops to hold me over until I can go home and cry about my bunions.
Puzzled, I couldn't figure out how to walk in high heels without pain. How do the fab women do it? Better yet, how do the Kardashians do it? Those sisters were basically born with a pair of pumps on their feet.
This required further investigation. You (and your wishlist Louboutins) won't be disappointed.
Tip #1: Keep It Moving
Kendall's trick for holding it together in a pair of stilettos?
"You have to keep moving your feet!" she told the Daily Mail.
This habit shifts body weight from one foot to the other, so you're not putting too much pressure on the ball of just one. If walking isn't an option, Kenny recommends placing one foot in front of the other in what's since become her signature pose.
Personally, I'm a fan of leaning against walls. It makes me look cool while simultaneously taking the stress off my poor toesies.
Tip #2: Toes Matter
While I love the slimming effect of pointy toe anything, they're also the style that's hardest to walk in. The sharp point squishes your toes together, limiting the blood circulation to the area. This only adds to the stress your foot is under when teeter-tottering in stilettos.
My podiatrist mom made me swear off point-toe pumps and opt for almond toe in their stead. The slightly rounded shape gives toes a bit more wiggle room while still maintaining sex appeal.
Tip #3: Practice
My close high school friend became a jet-setting supermodel after graduation, but I knew her back in the days of go-sees and free shoots to build her portfolio. If anyone knew how to walk in heels, it was her.
Her favorite thing to do in a new pair of pumps? Wear them while cleaning the house. By forcing herself to bend, reach and balance, she not only broke in her heels, but also kept her home fresh.
Another trick she suggested: Place the heel on the ground first, then the toes, shifting your weight onto the sturdier part of the foot. Additionally, leaning slightly backward while walking and standing not only helps you balance, but also makes you look like less of a giraffe on stilts.
And if walking in heels doesn't prove to be a cakewalk, take my favorite tip: just Uber everywhere you go.