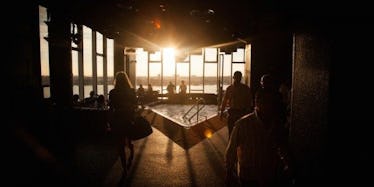 Personal Style Perfection | Elite Daily
Stock
Think Audrey Hepburn's clean lines and polo shirts. Think Marilyn Monroe's signature body-hugging dresses. Think Gwen Stefani's platinum blonde locks and red lips. Think Anna Wintour and her signature bob.
These are all talented women with signature styles. Although I can't say the same for myself, people have regarded my personal style as someone who will always wear a perfect blazer or finish any outfit with a leather coat. Despite an individual's own personal style, the age-old question still remains: is having a personal style still considered in vogue?
The way I see it, there is actually no need to develop a signature style, but it does have its perks. You save money, having established that high necklines don't suit you or high-low skirts make your legs look mildly disproportionate. You save time, knowing exactly what you will put on in the morning. It also means that never again will you stare sadly at your wardrobe and realize that you have absolutely nothing to wear. Such a profoundly demoralizing feeling, with which, ladies would know exactly what I mean.
I've collected a lot of books in my teenage days: how-to books or step-by-step guides to finding the perfect outfit. And although it proved to be very useful on occasions when I've had absolutely no idea what to wear, they all say the same thing when it comes to finding your own sense of style. To sum it all up, there are two distinct secrets to formulating a style all your own.
The first is to be cruelly realistic about your body. Once you accept the fact that your neck is short and you do not have a perfect jaw line, you will never again have to buy that kind of pullover and wonder why it just doesn't look quite right. Coming to terms with your body means understanding that you need nipped-in-tailoring. Shirts with darts to follow the curve of your body, dresses that hit you right on the waist, low necks to show off that wonderful cleavage –any straight shape will just hang down from your bosom and make the rest of you look like a box.
If you have a rounded stomach, like any other woman does, a flirty silk camisole will graze over the bulge without making you feel as if you are wearing a sack of shame. You will develop the strong certainty that low-rise pants are an invention of the devil, designed only to reveal too much bottom in the sickening manner of plumber's crack, which is not a look anyone would want - unless they are, in fact, a plumber.
Cali Vintage
When you have conquered the first secret, this makes the entire shopping and dressing process more pleasurable. Not having to cram into clothes that don't work with your body shape, and then peering tremulously in the mirror with that sick feeling, is the best feeling.
The second secret when looking for your own style is not to mull tirelessly over fashion magazines. No, that doesn't mean you need to burn your collection of Vogue, even after having seen "The Devil Wears Prada." What I'm referring to here is the way fashion, most especially trends, are shifting and unpredictable. Referring to fashion magazines is no help in developing a personal sense of style for life. Fashion is an ever-evolving cycle. As Heidi Klum once said, "In fashion, one day you're in. And the next day you're out." Don't worry about keeping up with trends; keep up with your own preference and what makes you feel good.
Rather than magazines, allow your pocket, your life, and your personality to be the guides in defining your own signature style. There is little point in developing a signature style based around tweed jackets plastered with logos if you can better afford, and prefer, that jersey dress you found at the department store. Having a signature style does not mean that you cannot step out of character. In fact, any deviation from your usual dress is an evolution of your own personal style and character.
You may decide on one finely honed look and stick to it, looking and feeling your best. You might discover the perfect white shirt and chic tailored pants, heaving a low sigh of relief that you no longer have to mess around with flirty little skirts and heels that make your poor feet scream. You may also prefer the idea of dressing according to your mood. One day you are a bookish intellectual, and the next, you're a hippie chick. Allow your personality and emotion to shine through in your style. Make it yours; make it you.
Coco Chanel once said that the great rule for dressing was to look in the mirror before you go out, and take one item off. There is always at least one item that doesn't work, whether it be a necklace, top, or pair of shoes. This is wise advice from the stylish, but it should also be remembered that Chanel ended up collaborating with Nazi Germany during the war. That, in itself, might very well be a little lesson of its very own that says: just wear whatever the hell you want. Even Anna Wintour might agree with that.
Top Photo Credit: Getty Images